Republic of Ireland's Richard Keogh condemns Giancarlo Gonzalez after elbow on Kevin Doyle
Republic of Ireland's Richard Keogh has condemned the Costa Rica player whose elbowing left Kevin Doyle bloodied.
Last Updated: 07/06/14 9:56am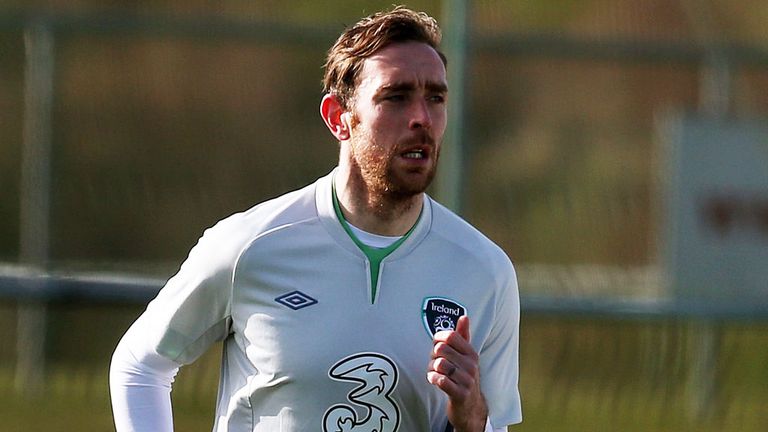 Doyle needed five stitches to a head wound after being caught by Gonzalez's elbow during the Republic's 1-1 draw with Costa Rica.
The defender was sent off for the offence for England's World Cup opponents during the match in Philadelphia.
Keogh was astonished by the incident and said: "We knew it was going to be a tough game, but I suppose in a friendly, you are not expecting someone to elbow someone in the head.
"You wouldn't expect that in any game, let alone a friendly game. He's got stitches in there now, Doyler.
"It was stupid, he deserved to be sent off. You don't want to see that on a football pitch. I hope he learns from it because he has let his team-mates down and let his country down.
"It was a poor challenge. If you look back at it, even their players were apologising for it. It was stupid, very stupid. I don't know what went through his head, but he deserved the red card."
Skipper Robbie Keane did not get a good view of the incident, but its after-effects told him all he needed to know.
Keane said: "I saw the two guys going up, but I didn't really see it very, very clearly.
"But it's clear to see from his injury - he's in there now getting stitches - so it certainly was a bad injury."
Ireland were leading through Doyle's fine 18th-minute header when Gonzalez was sent off, but the visitors' response in adversity was impressive.
Sparked by the excellent Joel Campbell, the Arsenal midfielder who spent last season on loan at Olympiakos, and striker Brian Ruiz, Costa Rica worked their way back into the game.
They levelled the score when Celso Borges scored a 64th-minute penalty.
Keane could have won it for Ireland within two minutes when he too was handed a chance to score from 12 yards.
But substitute Costa Rica keeper Patrick Pemberton, who would go on to make vital stops late in the game from Shane Long and Simon Cox, palmed away his effort.
Martin O'Neill's men will complete their season with another tough assignment against Portugal in New Jersey during the early hours of Wednesday morning.
Keane insisted that is just the kind of challenge they need to hone themselves for the start of the Euro 2016 qualifying campaign in September.
He said: "It's important that we play good teams and certainly teams who keep the ball and have good possession because come September and playing in the qualifiers, we are going to be playing against teams that are very, very good on the ball.
"At times, we are going to have to be sitting back for 10, 15 minutes and trying to soak the pressure up."