Louis van Gaal 'stunned' by character shown by Holland striker Robin van Persie
Louis van Gaal has described Robin van Persie as a 'super pro' after working with the striker for the first time.
Last Updated: 09/09/12 1:48pm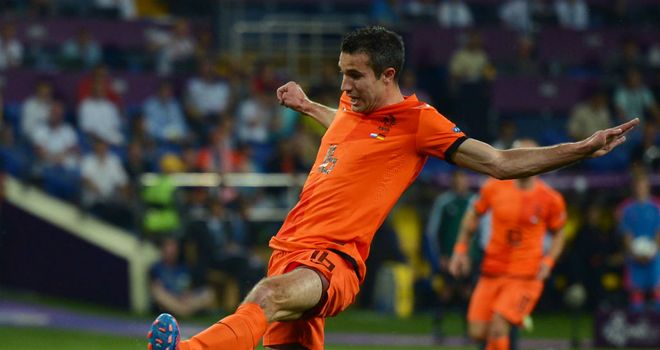 Van Gaal decided to hold talks with a number of Holland players after he replaced Bert van Marwijk as boss earlier in the summer, following a dismal Euro 2012 campaign.
He says he was impressed by Van Persie's reaction to being told that he would no longer be considered an automatic starter.
"I had a showdown with a couple of the players who had been part of the team which failed at Euro 2012. Van Persie was one of those players. I had a long individual talk with him," Van Gaal said in the Sunday Mirror.
"I told him face-to-face that I had different plans and that I was no longer going to consider him as the No.1 striker for Holland.
"Robin's reaction stunned me. He showed so much character. He was positive, he told me he respected me and said he would give everything for the team and that I could rely on him any day I was going to pick him again.
"It was the best talk I have ever had with a player - and I really mean that."
Van Gaal decided to select Van Persie for Friday's World Cup qualifier against Turkey after he started the season in superb form for Manchester United, and was rewarded when he scored the opener in a 2-0 victory.
Van Gaal added: "When I saw what Van Persie had done in his first few games for United, I realised I had to change things round again. There was no way I could leave Robin on the bench.
"I had never worked with Robin before, so I had to rely on the opinion of others.
"I can see now that he is a super pro. He also helps the younger players who I have selected for the new qualifying campaign."