Total Football
With boss Luis Van Gaal set for one last hurrah before a possible Premier League move, Pete Hall speaks to former Dutch international Andre Ooijer to examine Holland's chances in Brazil.
Last Updated: 11/04/14 5:06pm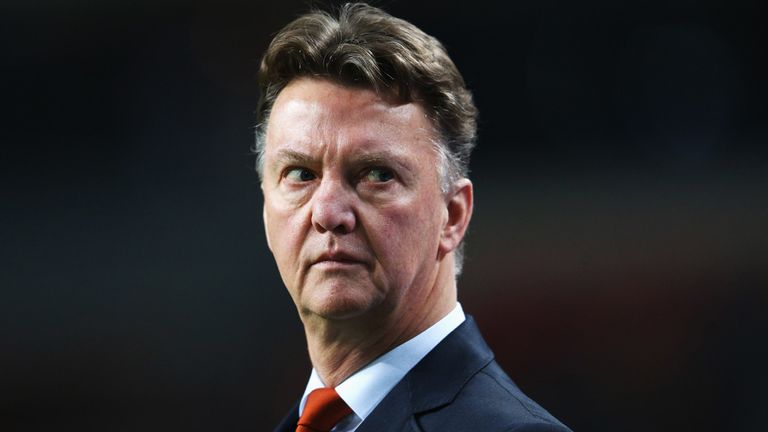 "It wasn't pretty, in fact it bordered on the criminal." That was Sky pundit Alan Smith's assessment of Holland's tactics in the Oranje's defeat to Spain in the 2010 World Cup final in South Africa.
Bert van Marwijk's side were castigated for their all-out assault on La Roja, with English referee Howard Webb forced to brandish 14 yellow cards in one match - a record for a World Cup final.
Famed for their 'Total Football' philosophy from the days of the 1974 and 1978 finalists, a Johan Cruyff-inspired Netherlands side brought a brand of attacking finesse and technical brilliance that has been the blueprint for clubs such as Barcelona to this day, but that night in Johannesburg was anything but that.
It would be churlish to ignore that getting to the final of the most prestigious football tournament on the planet is anything other than a huge achievement, but the manner in which the Holland went about it didn't settle well with the traditionalists back home.
However, after an embarrassing early exit at Euro 2012, Van Marwijk was replaced by Louis van Gaal - an advocate of the 'Totaalvoetbal' that thrilled so many.
And, with expectations extremely low after the humiliation in Poland and Ukraine two years ago, the experienced tactician has the knowhow to bring back that attacking brand of football, avenge the heartache suffered four years ago, and go about it in the Dutch way.
Former Blackburn defender Andre Ooijer is a huge fan of the former Barcelona chieftain, and even though Van Gaal is to leave his position after the tournament, he insists the coach is primed to lead a Dutch rejuvenation in Brazil.
"Van Gaal will put in 100% because that is what he does. He always gives 100% in whatever situation," Ooijer told Sky Sports.
"I think he will stick with his style of football. He has a vision about football, so I expect like usual he'll use three strikers."
That attacking formation that Ooijer refers to is what the Dutch philosophy is built on, and any suggestions of other playing styles are immediately cast aside, especially by fundamentalists such as Van Gaal.
"Van Gaal is not a reactive manager. For him, the system comes always first. He'll stick to that philosophy religiously," Dutch journalist Elko Born told Sky Sports.
"That system is 4-3-3, in many ways similar to and inspired by the 'Total Football' we know from the seventies. There's no chance he'll ever deviate from that, not even for one match."
In some ways, the 2010 tournament was a break from that mould, and it almost brought unforeseen success.
We all remember Dennis Bergkamp's outstanding strike against Argentina at France '98 - a fine, flowing move that epitomised what the Oranje's principals are all about.
Yet, this style hasn't always brought the desired results, as the 2010 'ugly' displays to get to the final showed, and the talented players that have come out of the Netherlands over the years hasn't heralded the success their ability should.
"It's always difficult to see, when we under-perform. I was in the World Cup squad in 1998 in France. I think that's the best team I ever played with. We lost against Brazil in the semi-final on penalty kicks. It happens," Ooijer reminisced.
However, Van Gaal has shown his plans have started to bear fruits to appease their fervent following.
Qualification was achieved at a canter, winning nine and drawing one of their ten qualifiers. The performances on the pitch were emphatic, the attacking play too hot to handle for their beleaguered opponents and 34 goals en route to Brazil sent out an ominous message to the pessimists.
Nonetheless, we have seen this before from the Dutch, and it would be churlish to ignore just how inferior their qualification opponents were, with Romania finishing runners up in the group.
"The team didn't face any serious opposition during the qualification round. After a couple of difficult friendlies in recent months (a draw against Colombia, a 2-0 loss against France), expectations have been adjusted," Born reluctantly added.
The Van Marwijk era alienated the traditionalists, and Holland's woeful penalty record means the Oranje support travel to Latin America in hope rather than expectation.
Kevin Strootman's injury is a further blow to those expectations. The Roma midfielder's knee problem will keep him out of this summer's tournament, and will leave a gaping void in Holland's creative arsenal.
"Losing Kevin is first of all a big loss for himself and I hope he will come out stronger than before," Ooijer added.
"Kevin is a player who belongs on World Cup and can make a difference for the team. We will miss him, but he is not there so someone else will take his place. Everybody is replaceable."
Not everybody shares Ooijer's confidence. Strootman is one of a rare breed of box-to-box midfield players, who along with Robin van Persie and Arjen Robben make up Van Gaal's 'Big Three' players - those who can make something happen.
There is no hiding from the fact that replacing the combative midfielder will be a difficult task.
"Strootman's injury is a huge loss to Oranje. It almost couldn't be worse. Strootman is one of a kind and simply irreplaceable," Born eulogised.
"A lot of Dutch midfielders are either defensive and/or creative and attacking. Think of Nigel de Jong and of Wesley Sneijder. There aren't many more typical central midfielders - those who will both attack and defend - in the Dutch squad. In that regard, Strootman is unique."
Youngsters such as Jordy Clasie could deputise for Strootman, but with limited international experience, Strootman's loss will be hard to overcome.
There is plenty of Premier League interest within the squad, stalwarts such as Rafael van der Vaart and Klass-Jan Huntelaar still excelling for their respective clubs, while Eredivisie stars such as Davvy Klaasen and Daryl Jamaat provide the youthful experience the squad needs - once again, the components are all there.
Van Gaal is manager who will not succumb to player power. The veteran will have a plan ready, with players he has worked with for a long time, and will fit the individuals to his system, rather than vice-versa.
Gone are the days of the Cruyff-turn wetting our appetites, but in the same respect, Van Marwijk's negativity is also a thing of the past.
"We have a tough group stage to survive and the expectations are low, which could be to our benefit," Ooijer claimed.
With a Spain, Holland, Chile and Australia making up this World Cup's 'Group of Death', the Oranje will be up against it just to qualify.
But, whether Van Gaal manages to succeed in Brazil or not, he will go about it in a way that Cruyff and his compatriots from that glorious era will certainly approve of.