Buffon bemoans finale
Italy captain Gianluigi Buffon admits he was angry with their last five minutes against Germany as they almost let them back in the game.
Last Updated: 29/06/12 8:28am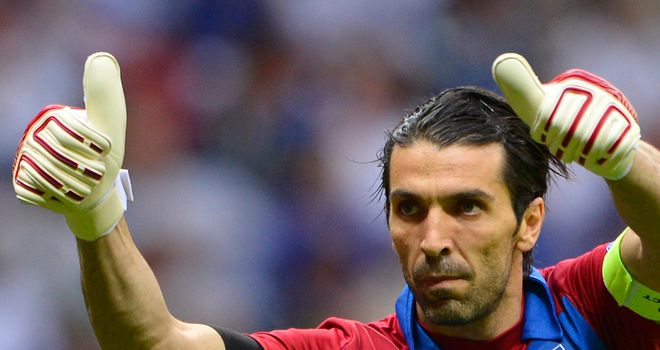 Italy captain Gianluigi Buffon admits he was angry with the last five minutes of their Euro 2012 semi-final against Germany as they almost let them back into the game.
The Azzurri were the better side for much of the showdown in Warsaw, but they conceded an added time penalty before holding out for a 2-1 success.
After the match Buffon seemed far from happy and he admits he was annoyed with their performance late on.
Unique
"We are playing for something unique and totally prestigious, so it's not right with the performance we put in to risk it in the last five minutes and play with fire," he said.
"If they had scored with a lucky ricochet for 2-2, we'd end up losing in extra time 9-2. We are playing in the Euros here and cannot take it lightly.
"I always evaluate performances and attitudes rather than strictly wins or losses.
"We are still young, apart from a few old men in the squad, and need to learn. It's only right for the old men to tell them off and stir up trouble.
"We played a great game and could've won with a larger result, but there were times when we were even and made the most of incidents. It doesn't take much to change a match. It went well for us."
Personal
Buffon was happy with aspects of his own performance.
"For a goalkeeper like me I think it was a good response, but it's nothing new. I'm sorry if someone is surprised. There were two or three ricochets that we were lucky with and must be honest to evaluate everything not just the result," he said.
"I know there are many people who love me and I try to repay them with performances. I will smile when we've won and we haven't done that yet."
The goalkeeper is delighted with what his side are doing for his country.
"I barely slept, but did not study our opponents, I spent an hour and a half watching YouTube clips of the celebrations in the streets in Italy after our victory over England. That gave me goosebumps and I can only imagine what's happening now," he said.