Italy coach Cesare Prandelli considered dropping Mario Balotelli over surgery
Italy coach Cesare Prandelli has revealed he considered dropping Mario Balotelli for the upcoming World Cup qualifiers.
Last Updated: 08/10/12 5:32pm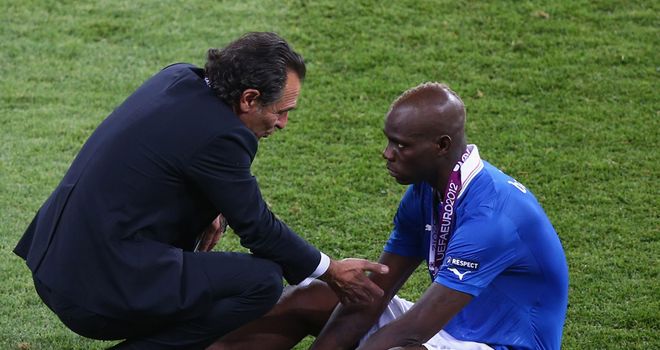 The Azzurri take on Armenia and Denmark in the current round of international fixtures but nearly did so without the Manchester City forward because Prandelli was "hurt" by an earlier withdrawal.
The Italy boss was disappointed by the 22-year-old's decision to have laser eye surgery rather than link up with the international squad for last month's games against Malta and Bulgaria.
"I tell you the truth, when he decided to undergo surgery just two weeks before his commitments to the national team, there was hurt," Prandelli told a press conference.
"We now need to understand if he wants to become a champion. The blue shirt is a wonderful thing for all players.
"I had some thoughts (about dropping him), but then I thought of the games he has played for his country and I was comforted."
Balotelli scored twice for Italy in the semi-finals of Euro 2012 to help his country beat Germany in the summer.