Gianluigi Buffon hopes to be fit to start for Italy against Denmark
Cesare Prandelli insists goalkeeper Gianluigi Buffon wants to play for Italy against Denmark on Tuesday.
By Nadia Carminati
Last Updated: 16/10/12 1:35pm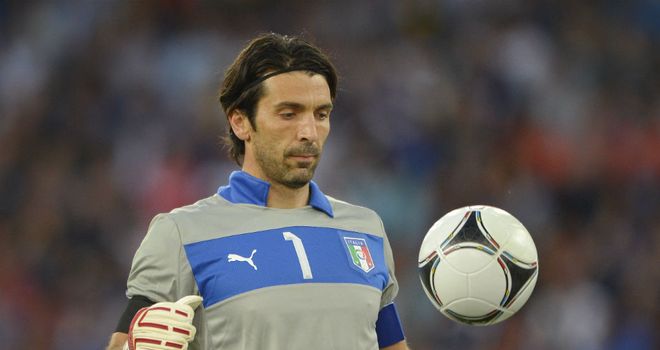 Buffon missed training on Monday due to a minor thigh strain and that prompted claims he would sit out the World Cup qualifier against Denmark in order to be fit for Juventus' game in Serie A against Napoli at the weekend.
Napoli keeper Morgan de Sanctis would take Buffon's place, if he fails to make the tie, but the Juve No.1's representative Silvano Martina denied there is a conspiracy.
"The polemics about Buffon's injury? They are ridiculous," Martina told Radio Kiss Kiss. "Between the national team, Napoli and Juventus, for a player what counts more is the national team.
"Gigi has been a player there for 20 years. If he has a physical problem, it's true and not an excuse."
Italy coach Prandelli added: "Buffon wants to play. We will assess it in the morning, but has hasn't trained as a precaution.
"Juve-Napoli? We do not care about that. It's a game that concerns fans and journalists only. All that we're worried about is the three points.
"I hope that everyone is concentrating on this game. The last time we talked about a club game, we lost to the USA in Genoa. So I will not say any more about things that do not concern the national team."