Italy head coach Cesare Prandelli hopes Daniele De Rossi learns a valuable lesson after dropping him from his squad
Italy head coach Cesare Prandelli hopes Daniele De Rossi learns a valuable lesson after dropping him from his squad.
Last Updated: 12/11/12 6:33pm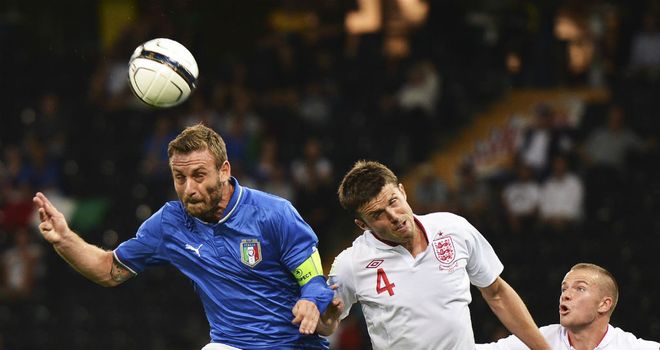 The Giallorossi vice-captain fell foul of Prandelli's strict code of ethics when he punched Lazio captain Stefano Mauri during Sunday's Rome derby, which Lazio went on to win 3-2.
The door is certainly not closed on the 29-year-old, though, with Prandelli keen to hand him a significant role at the World Cup in Brazil in two years' time, should the Azzurri qualify.
Prandelli told Gazzetta.it: "I haven't spoken to De Rossi yet but I will in the next few hours.
"I have no doubt that he will be key for us at the World Cup.
"Therefore, this punishment will serve to teach him that he cannot repeat such behaviour at a World Cup.
"He has too much of a fan's mentality, when you're handed responsibility then you have to behave accordingly.
"He could be Roma's captain for a long time and I'm sure he's very sorry for what's happened."
De Rossi was today handed a three-match Serie A ban for violent conduct.
If Prandelli used a cruel-to-be-kind policy towards De Rossi ahead of Wednesday's friendly in Parma, he threw a supportive arm around troubled Manchester City striker Mario Balotelli.
The 22-year-old cut a frustrated figure from the stands as City beat Tottenham yesterday, with Roberto Mancini opting to start Sergio Aguero alongside Carlos Tevez while handing Edin Dzeko Balotelli's place on the bench.
Both Mancini and Prandelli are concerned that Balotelli is too distracted by his controversial public persona to dedicate himself fully to football, with the Sicilian featuring on the cover of this month's Time magazine before wrapping his £160,000 Bentley in camouflage vinyl.
"He's a bit upset about being left out by Mancini, who I know only did it for technical reasons," Prandelli added.
"But he shouldn't take it to heart, Mancini just thinks others are in better form.
"Clearly he's not satisfied with what he's been doing, Mario has to show that he deserves his place every day in training.
"He'll get his chance to prove him wrong in two days' time."
On Balotelli's Time magazine appearance, Prandelli added: "He's a unique footballer, with a unique personality, based on what he does in his daily life.
"But he must not forget that, above all, he is an athlete.
"It's important that a footballer is talked about for what he does on the pitch."
Wednesday's match may provide some welcome respite from the rigours of World Cup qualifying, but Prandelli insists his men will take the occasion very seriously.
"The friendly counts towards our ranking and it will be important because we're playing a good opponent," he added.
"Some say that the rankings don't matter, but we all look at them.
"The young players that I put out there need to show enthusiasm and quality."
Prandelli is yet to name a replacement for injured Roma striker Pablo Osvaldo, who withdrew from the Italy squad today after suffering a recurrence of an old ankle injury during the Rome derby.
Atalanta defender Federico Peluso was drafted into the 25-man selection after Zenit St Petersburg's Domenico Criscito withdrew with an unspecified injury problem this morning.
Roma midfielder Alessandro Florenzi has been named in a senior side for the first time with Newcastle full-back Davide Santon returning to contention for the first time since March 2011.
Prandelli added: "Florenzi has earned himself a place in a very good team, he does a great job in the middle of the park.
"Santon has started 10 games for Newcastle this season, he's rebuilding his self-confidence. He's equally comfortable on the right or the left."