Italy pay tribute to former Azzurri striker Stefano Borgonovo
Italy have dedicated their battling performance in the defeat to Spain to former Azzurri striker Stefano Borgonovo.
Last Updated: 28/06/13 11:34am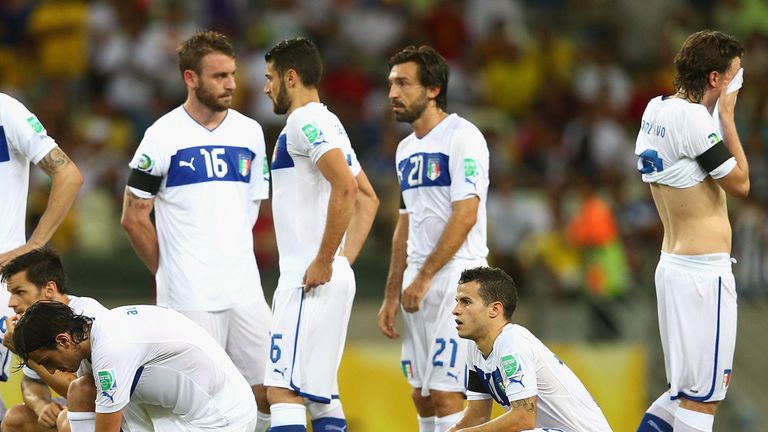 Cesare Prandelli's men wore black armbands for the Confederations Cup semi-final meeting with the world champions, minutes after hearing Borgonovo had passed away at the age of 49 following a long battle with motor neurone disease.
But Italy were unable to dedicate a victory to the former AC Milan, Fiorentina and Udinese forward as Spain triumphed on penalties at the end of 120 goalless minutes.
There were 12 perfect spot-kicks before Leonardo Bonucci blazed his effort over the bar, leaving Jesus Navas to slot home and book a final showdown with Brazil.
Defender Giorgio Chiellini told figc.com: "He was someone that we knew well and we wanted to dedicate a victory to him, but unfortunately that wasn't possible.
"Our best wishes go out to all his loved ones."
Italy coach Prandelli, who recognised the courage with which Borgonovo had battled his disease since his diagnosis in 2008, added: "I dedicate this game to him and to his extraordinary family.
"They have all lived through a dramatic time with great serenity."
Also among Italy's delegation in Brazil is retired midfielder Demetrio Albertini, who in the late 1980s was Borgonovo's team-mate in Arrigo Sacchi's successful Milan side.
"Stefano was a great player," Albertini said. "He was a shy lad but he was an indomitable fighter against his disease. He battled it with an immeasurable strength because he wanted to help others."
Sacchi guided the Rossoneri to one Serie A title and two European Cups with Borgonovo in his squad and today he spoke fondly of his late charge.
He said: "He fought with an incredible strength and an extraordinary dignity against a disease as ugly as [MND]. He is a hero.
"He was incredibly unlucky but showed the desire to live and to stay with his family.
"He was fundamental to our European Cup win in 1990, too, scoring a decisive goal in the semi-final against Bayern. I will always remember his footballing qualities and his desire to live and fight."
Current Rossoneri striker Mario Balotelli had the last word on his official Twitter account, writing: "Your show of strength was a life lesson for all.
"Goodbye Stefano, you will always be with me. And with us!"