Word Cup qualifier: Italy coach Cesare Prandelli has not decided where his future lies
Italy coach Cesare Prandelli has not decided where his future lies beyond next summer's World Cup finals.
Last Updated: 06/09/13 8:48am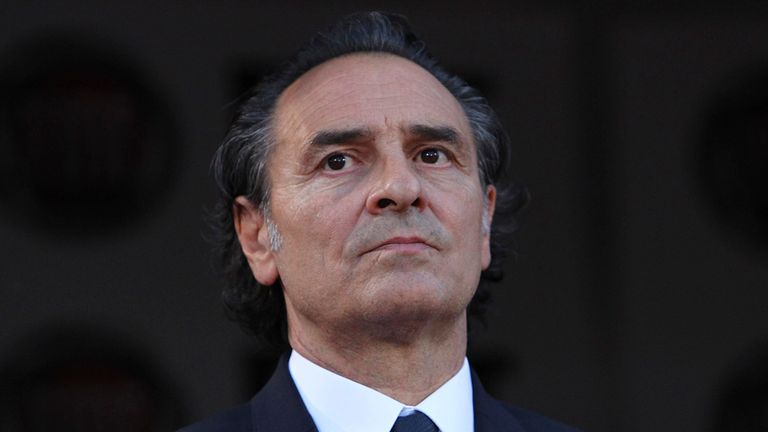 Reports have suggested the 56-year-old will stand aside following the 2014 Brazil finals - for which Italy can qualify by beating both Bulgaria and the Czech Republic in a Group B double-header staged over the international weekend.
At a press conference ahead of Friday night's meeting with Bulgaria in Palermo, Prandelli hinted the thought of stepping down after four years in charge might have crossed his mind but that he had not reached a "final decision".
"As far as my future is concerned I'm incredibly relaxed," he told figc.it.
"My thoughts are focused solely on qualifying for the World Cup and the rest will be handled with the utmost transparency.
"I have not made a final decision - I have the utmost respect for what we have to do and I'm focused."
Prandelli has transformed Italy's fortunes since replacing Marcello Lippi in 2010.
The Azzurri suffered an embarrassing first-round exit from the World Cup in South Africa but have since reached the final of the European Championships before finishing third under the former Fiorentina boss at the Confederations Cup.
Prandelli added: "I'm only thinking about Bulgaria. It is is a crucial game and the points are very important.
"We have prepared for the game as best we can, we have studied the opposition, and we think we're ready.
"I'm calm, but football games are always strange and we would just like to get through it."
AC Milan coach Massimiliano Allegri and former Manchester City boss Roberto Mancini are the front-runners to succeed Prandelli should he stand aside, according to the Italian press.