World Cup: Gianluigi Buffon believes Francesco Totti deserves a place in Italy's squad
Gianluigi Buffon described Francesco Totti as a footballing "immortal" and feels he deserves to play at the World Cup.
Last Updated: 09/10/13 4:51pm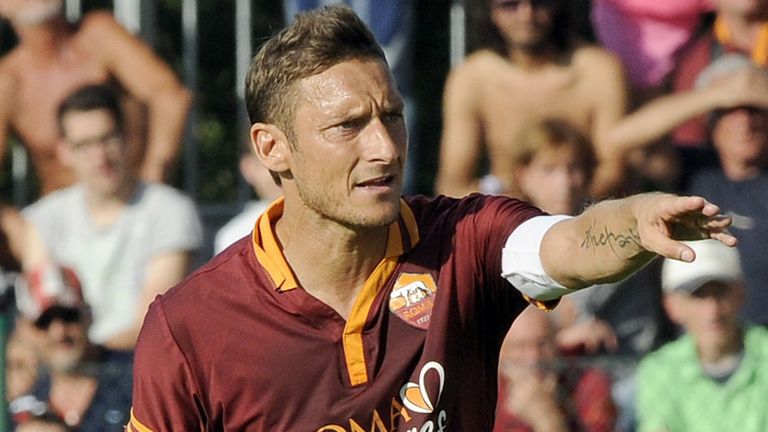 Buffon, who is set to win a national record 137th cap in Italy's penultimate World Cup qualifier away to Denmark on Friday, faced questions on a variety of topics when he faced the media at the national training base at Coverciano near Florence on Wednesday.
One of the burning issues is whether 37-year-old Totti, who has inspired Roma to seven straight wins from the start of the current Serie A season, should be brought back into the national team set-up, something which national coach Cesare Prandelli admitted earlier this week he was considering.
Buffon felt there could be no doubts regarding the quality of his fellow 2006 World Cup winner, and said in quotes reported by the Italian federation's official website figc.it: "Francesco is immortal.
"He is a player who can make a difference at any stage and at any age.
"It's normal that you speak of him in those terms (as a national team candidate) but it is also true that we are in October and that there are still eight, nine months until the World Cup. I believe that, if he is still playing this way at the end of the season, no coach, player or fan would have any doubts (about selecting him)."
Buffon will go clear as Italy's most capped player, surpassing 2006 captain Fabio Cannavaro, if he features as expected in Copenhagen on Friday.
Speaking about the milestone, he added: "It's an important achievement but it will not be the last."
Meanwhile, Italy's medical staff insist "everything is under control" regarding forward Mario Balotelli's minor knee problem but he remains a doubt for the Denmark match.
The AC Milan man missed national team training on Wednesday morning with what has been diagnosed by Azzurri staff as a left adductor strain, with media reports circulating that the player may be rested for the Copenhagen trip and prepared for the home match against Armenia in Naples next Tuesday instead, with qualification for the 2014 finals already secured.
Enrico Castellacci, the head of Italy's medical team, told www.figc.it: "The player is here, everything is under control. I will evaluate day to day, if he recovers quickly he will immediately be available."
Balotelli was joined on the sidelines on Wednesday morning by Paris St Germain midfielder Marco Verratti and Napoli forward Lorenzo Insigne, with the team also preparing to train in a closed session in the afternoon.
The mere presence of Balotelli in the Italy squad has proved controversial, coming as it does immediately after he completed a domestic ban for threatening a referee at the end of AC Milan's Serie A match against Napoli on September 22.
Buffon felt his call-up was the right decision, however.
"If the call-up had come in the middle of the suspension the choices of the coach would have been different, but it's a good thing," the Juventus goalkeeper said.
"Eventually, as is normal, this choice is the subject of discussion, but I also believe that the only one who has to decide is precisely Prandelli.
"If he wanted to call Mario into the national team, I think it was because of reasons which were more than valid.
"Mario was suspended 20 days ago and arrived with the national team when the suspension was over: it is an argument that is flawless."