Hellas Verona striker Luca Toni open to chance of playing for Italy again
Hellas Verona striker Luca Toni would welcome the chance to play for Italy again at the age of 36.
By Nadia Carminati and Paulo Freitas
Last Updated: 04/11/13 4:01pm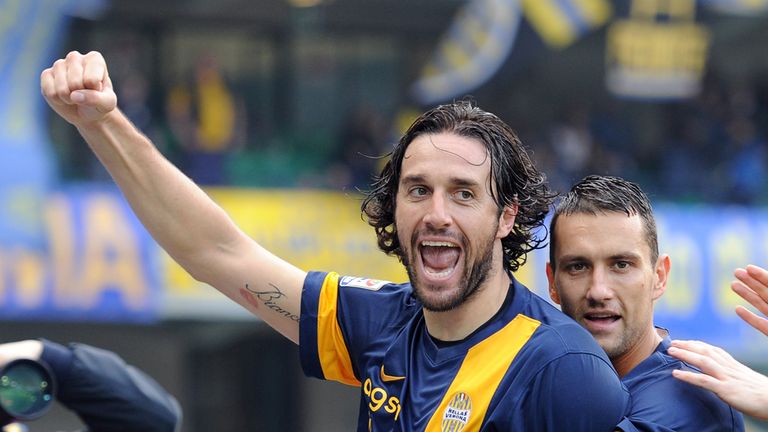 Five goals in nine games this season for the 2006 World Cup winner have sparked speculation that the veteran could be recalled by Italian team coach Cesar Prandelli.
With Toni having won the last of his 47 caps in 2009, a return to the national side would be a surprise for the player who counts Fiorentina, Bayern Munich, Roma and Juventus among his former clubs.
"The national side? If Prandelli calls me, I'd surely play," Toni declared. "But it's not up to me and there are many good young players out there."
Toni's Verona team mate Jorginho has also expressed his desire to play for Italy despite being born and raised in Brazil.
"I left Brazil very early to play here, I grew at Verona's youth set up," said the 21-year-old.
"It's logical that I dreamed of playing for Brazil's national team, but knowing the competition in Brazil, and all the difficulties, I would like to play for the Italian national team.
"I have Italian blood too. I believe they don't know me in Brazil."
The possibility of Jorginho playing for Italy has echoes of the controversy in Spain, where Atletico Madrid's Diego Costa has opted to play for the world champions.
The joint-leading goal scorer in La Liga this season appeared for Brazil, against Italy, in March but was able to switch allegiances because the match, which took place in Geneva, was a friendly.
"I believe it depends on what the player wants," said Jorginho when asked about Diego Costa. "You can't force him to do something that doesn't make him happy. If he wants to play for Spain, there's no point preventing that."