Serie A: Italy coach Cesare Prandelli explains Daniele De Rossi omission to face Spain
Cesare Prandelli has defended his decision to omit Roma midfielder Daniele De Rossi from his Italy squad to face Spain.
Last Updated: 04/03/14 10:27am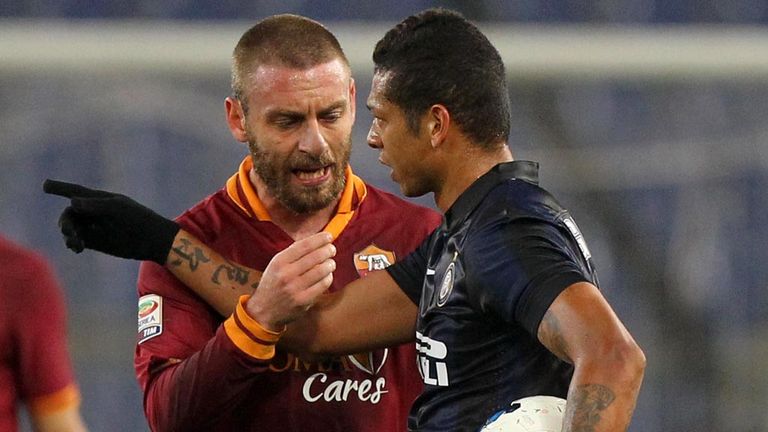 The Italy vice-captain was not included in the 26-man squad named on Sunday after he punched Inter Milan forward Mauro Icardi in the face during Saturday's goalless Serie A draw in Rome.
He would ultimately be handed a retrospective three-match ban on Monday evening, but Prandelli stressed he did not need to wait for the Lega Serie A to act before making up his own mind.
"I have told my players that I watch the games and that I don't have to wait for a disciplinary ruling in order to make a decision," Prandelli told figc.it.
"I have told them that if I see a gesture that I consider inappropriate, the player responsible for such an action will not come into the national team.
"I do not want these type of gestures at the World Cup."
Although referee Mauro Bergonzi failed to see the incident during Roma's match, television evidence was used by the Lega's disciplinary body to determine a retrospective sanction for De Rossi.
The 30-year-old will now miss games against Napoli, Udinese and Chievo while his club Roma bid to catch league leaders Juventus - who currently hold an 11-point advantage - over the season run-in.
Prandelli instituted new rules of conduct after replacing Marcello Lippi as Azzurri coach in 2010.
Italy players are expected to meet high standards of personal conduct even when they are on club duty.