Italian Football Federation chief Giancarlo Abete backing Cesare Prandelli
Cesare Prandelli fully deserves to remain as Italy coach, according to the nation's football chief Giancarlo Abete.
Last Updated: 14/04/14 5:01pm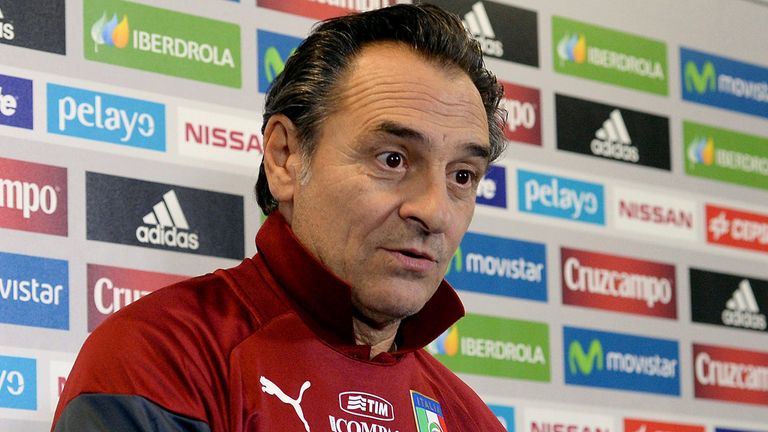 Prandelli, whose current deal expires after the tournament in Brazil, is set to sign a two-year contract extension later this month that would see him remain with the Azzurri through to the 2016 European Championship.
"The decision to renew Prandelli is based on what he has achieved," Italian Football Federation (FIGC) president Abete told radio station Anch'io Lo Sport.
Prandelli took over the Azzurri helm following their first-round exit from the 2010 World Cup in South Africa.
The 56-year-old led Italy to the final of Euro 2012, where they fell 4-0 against Spain.
Italy beat Uruguay to finish third in last year's Confederations Cup after losing on penalties to Spain in the semi-final stages.
The Azzurri have reached the World Cup unbeaten in qualifying and sealed their spot in Brazil with two games to spare.
Abete believes the 56-year-old Prandelli fully deserves the new deal.
"We know that the responsibilities of a national manager are many," Abete said.
"He only has a few games to make decisions and hence, he risks a lot more than a club coach.
"We have total trust in Prandelli and we've wanted to prove that in what is a difficult time for our football and our clubs."
Serie A leaders Juventus are the only Italian side remaining in European competition, with AC Milan, Napoli, Fiorentina and Lazio having being knocked out in the early rounds.
Juventus take on Benfica in the semi-finals of the Europa League later this month.
Seven Juventus players have been called up by Prandelli as part of a 42-man group to undergo fitness tests on Monday and Tuesday in Italy's headquarters in Coverciano, Florence, as part of their preparation for the World Cup.
Prandelli has reiterated that he wants the best athletes the game has to offer to make up his squad.
"From our experience in the Confederations Cup, we know that our preparation from an athletic standpoint has to be optimum," Abete said. "This World Cup is going to be very difficult.
"We cannot forget that from Rio to Manaus there is a four-hour flight and we are talking about a World Cup that will be played in a continent not in a country.
"The physical aspect will be crucial in such a complex competition."
Italy take on England in their Group D opener in the Amazon city of Manaus on June 14.
Six days later, the Azzurri square off against Costa Rica in the coastal city of Recife before ending the group stages against Uruguay on June 24 in Natal, a four-hour drive north.