World Cup: Italy coach Cesare Prandelli warns players against indiscipline
Italy coach Cesare Prandelli has warned his players that indiscipline will cost them a place in his World Cup squad.
Last Updated: 16/04/14 10:40am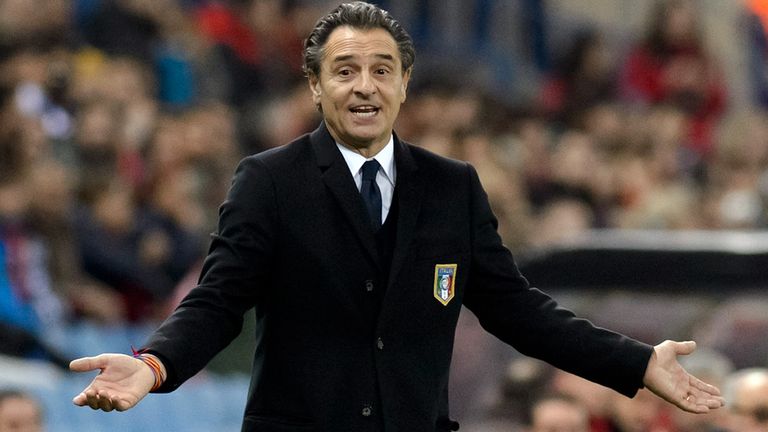 Prandelli omitted Roma's top scorer Mattia Destro from his 42-man list for this week's fitness tests in preparation for this summer's tournament after the forward's recent unruly behaviour with his club.
Destro was handed a three-match ban by the Italian Football League for hitting a Cagliari player in the face during a Serie A game earlier this month, thus breaching Prandelli's code of ethics.
"I am fed up with seeing certain actions," Prandelli said to www.figc.it.
"The players of the national team must have the strength not to fall into provocation in the World Cup.
"The code of ethics will remain even in the last month (heading into the World Cup). He who makes a mistake will remain home.
"I am convinced that no-one will make a mistake."
Prandelli revealed earlier this week that he has 18 players in mind to make the World Cup squad but he has not made a final decision.
"I have told all of them that until the end they will all be in contention to play at the World Cup," he said.
"I called up the best players possible to undergo fitness tests this week. I saw them all happy and determined to showcase themselves.
"The squad will be made up of the players that are here, unless there are emergencies."
One player that was included in Prandelli's group to undergo fitness tests this week was Giuseppe Rossi.
The Fiorentina forward is fighting against the clock to recover from a right knee injury, the joint in which he has already undergone two operations to reconstruct cruciate ligaments.
The 26-year-old has been sidelined since January 5 and is expected to return next month.
"We are not putting pressure on Rossi," Prandelli said. "We all want to see him back on the pitch.
"The important thing is for him to recover not only physically but also psychologically. But right now it is not possible to say whether we are optimistic or not regarding his condition."