World Cup: Mario Balotelli says everyone should fear Italy in Brazil
By Nadia Carminati
Last Updated: 15/06/14 6:25pm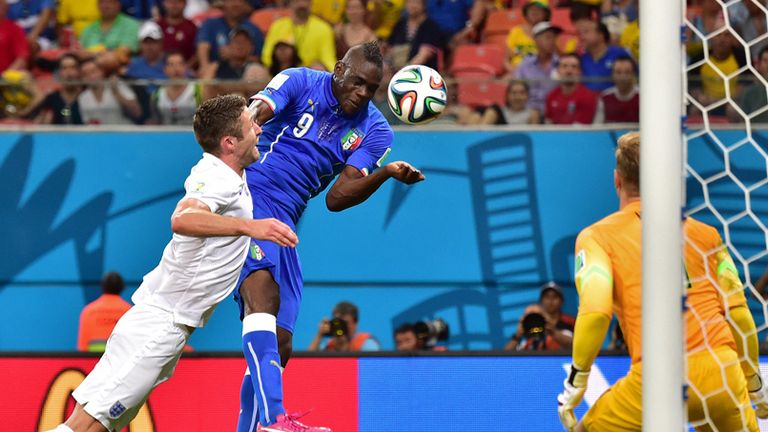 Mario Balotelli has warned everyone to be afraid of Italy after revelling in his first World Cup goal in the victory over England.
Balotelli netted the winner in Manaus and was named the game's best player by FIFA after Italy beat England 2-1 to get their Group D campaign off to a perfect start.
The 23-year-old was far from a certainty to start but was chosen by Italy coach Cesare Prandelli ahead of Serie A's top scorer Ciro Immobile.
He tweeted: "Man of the match, I'm just so happy.
"A great thank you to my team-mates and let's continue like this. Forza Azzurri."
Speaking to reporters after the game, Balotelli added: "I'm really happy. It's a unique emotion. 
"I have never played a World Cup and this was my first game so for me it's sensational. I dedicate this goal to my future wife, to my family and my friends who are at home watching TV."
Italy go on to Recife for their next match against Costa Rica, who stunned Uruguay 3-1, and Balotelli is in confident mood.
We are strong and everyone should fear us.
Mario Balotelli
"We are strong and everyone should fear us," Balotelli told figc.it.
Prandelli meanwhile, wants to get the most out of Balotelli in Brazil.
"Mario played a great game against England," said the Italy boss. "But I've told him that he can give a lot more considering his extraordinary potential."
Prandelli has criticised FIFA for not allowing any breaks for the players in Manaus, and Balotelli agrees.
The striker said: "Here the climate conditions are extreme, it's too hot. 
"Now we will look game by game: this one was difficult because England are strong and also because there was this climate. Now let's think to Costa Rica and Uruguay."