FIGC president Carlo Tavecchio won't be punished for allegedly racist comments
Last Updated: 25/08/14 5:43pm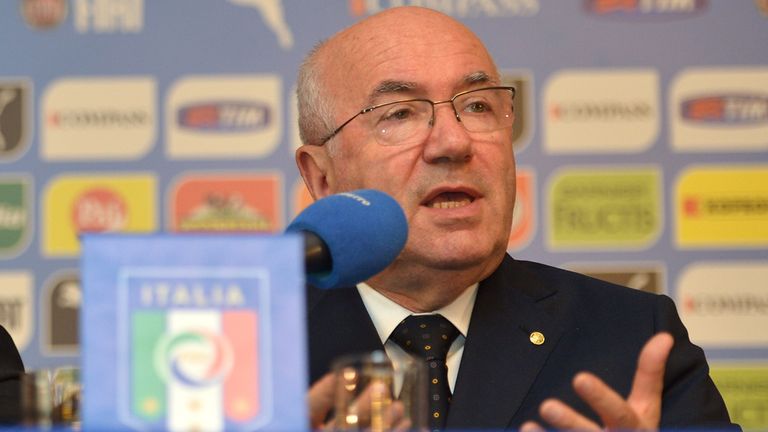 The Italian Football Federation's Federal Prosecutor has confirmed no action will be taken against newly-elected president Carlo Tavecchio for allegedly racist comments.
The 71-year-old courted controversy during his election campaign when referring to a fictional foreign player as "eating bananas" before moving to Italy to play football.
Both FIFA and UEFA have opened investigations into the comments but the FIGC has already closed its enquiry.
In a statement published on figc.it, Federal Prosecutor Stefano Palazzi said his analysis of "comments uttered by the president of National Amateur Leagues during their assembly on July 25" had not revealed "any facts of disciplinary importance to charge the newly-elected FIGC president Carlo Tavecchio both in objective and subjective terms."
The campaign against Tavecchio's candidacy began when he made an allegedly racist comment when using a fictional example to try to make a point about the number of foreign players in the Italian leagues.
Quoted by newspaper La Repubblica, Tavecchio said: "England identifies the players coming in and, if they are professional, they are allowed to play.
"Here, on the other hand, let's say there's (fictional player) Opti Poba, who has come here, who previously was eating bananas and now is a first-team player for Lazio.
"In England, he has to demonstrate his CV and his pedigree."
Despite the controversy, he beat former AC Milan player Demetrio Albertini in the race to succeed Giancarlo Abete.
Upon learning of UEFA's investigation, he said in a statement: "I am calm and I respect UEFA's decision.
"It's something that had to be done, hence, we had foreseen it. I am certain that I will also be able to explain in UEFA's headquarters my mistake as well as my true intentions."