World Cup Group C: Kazakhstan v Germany
Germany hope to take control of Group C ahead of a fixture double-header with Kazakhstan, while Austria face the Faroes.
Last Updated: 21/03/13 6:06pm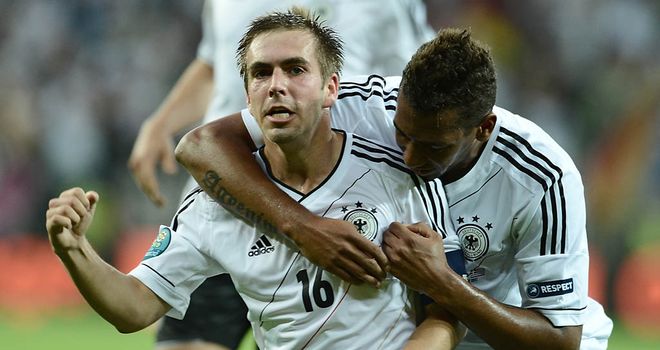 Joachim Low's Group C leaders travel to Astana this week before hosting the Kazakhs, who have collected just one point from four games, in Nuremberg next Tuesday.
Their two closest rivals, Sweden and the Republic of Ireland, face each other in Stockholm on Friday. Ireland then return to Dublin to play Austria next week while the Swedes are not in action.
The situation could present an opportunity for Germany, even though they have already played a game more than Sweden and Ireland, to open up a significant lead.
The Germans currently have a three-point advantage over Sweden with the Irish a point further back.
Midfielder Thomas Muller told DFB-TV: "We have to win there. For us, six points that we have been targeted."
Sweden, who remarkably fought back from 4-0 down to claim an unlikely point against Germany in Berlin last October, are expected to prove the most likely challengers for top spot.
Germany are due to travel to Sweden in the final round of fixtures in October but captain Philipp Lahm is not thinking ahead to what could prove a shoot-out for top spot.
Lahm told the German Football Association's (DFB) website: "If Sweden win all of their games, then that's how the situation would be.
"But I wouldn't be afraid. Knockout games are always interesting and I see that as a challenge, but we don't need to concern ourselves with Sweden just now.
"We have a few other challenges to overcome and we shouldn't place the second step before the first. We are just looking at ourselves and if we perform, then I'm sure our quality will see us through."
Sweden are also focusing on their immediate task with Giovanni Trapattoni's Ireland visiting the Friends Arena.
Coach Erik Hamren said: "I think Ireland are a really good team. I am full of respect for them.
"They played in the Euros last summer and if you see the away statistics from Ireland you can see they are a really tough team to beat.
"We are ready, the players are ready and I am ready. It will be a tough game and we need to be really good. We have set our goal to be that good.
"Then we will see what happens. They are only one point behind us. It is a really important game for us both."
While Germany will play on an artificial pitch in Kazakhstan, Sweden and Ireland are likely to play under the Stockholm stadium's retractable roof to combat freezing temperatures.
Trapattoni said: "The next match will obviously be very important for our qualification.
"It will be important to keep in mind there is only one point between us and Sweden in our pool.
"As always every little detail is important to achieve the result. Against these strong teams character, technical (ability) and attitude are important."
In the group's other match on Friday, fourth-placed Austria, hoping to keep the pressure on Sweden and Ireland, host the Faroe Islands, the bottom side.