Germany coach Joachim Low refused to criticise his players for easing off
Germany coach Joachim Low refused to criticise his players for easing off in the second half against Kazakhstan.
Last Updated: 26/03/13 10:50pm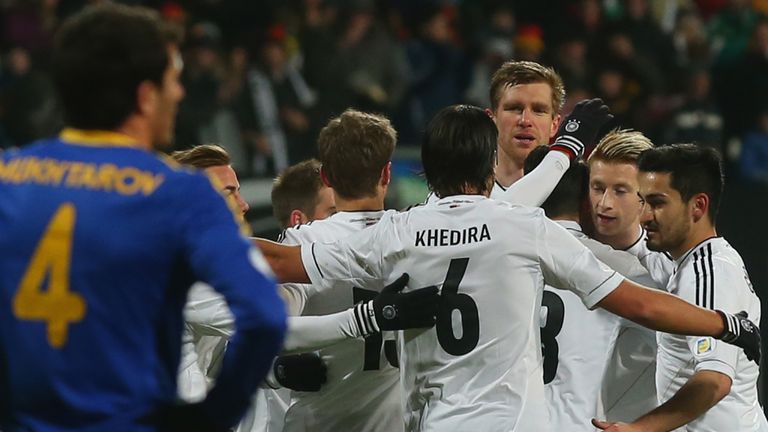 A 4-1 win took Germany a step closer to qualifying for the 2014 World Cup, but after leading 3-0 at the interval they risked throwing the match away as their low-ranked opponents pulled a goal back, hit a post and had a shot cleared off the line.
However, unlike after the 3-0 win in Kazakhstan on Friday night when Low criticised his team's attitude, he forgave them for taking their foot off the peddle in Nuremberg.
"They have important Bundesliga games at the weekend and Champions League matches next week so possibly they were thinking about that," he said.
"But we still created a lot of chances against very deep-lying opponents who didn't even want to play football."
Low, though, criticised some fans inside the Frankenstadion for their jeers in the second half, particularly those aimed at goalkeeper Manuel Neuer after his mistake allowed Kazakhstan to pull a goal back.
"What I don't like is the treatment of our number one goalkeeper," he said to ARD television. "I don't think it's fair to ridicule a goalkeeper who has achieved so much for us, I think that is very unsporting."
Neuer explained the rush of blood to the head which saw him caught in possession on the edge of his own penalty area, allowing Heinrich Schmidtgal to give Kazakhstan a glimmer of hope early in the second half.
"All I can do is apologise," he said. "I wanted to try to play the ball out and not just blast it into touch. In the end, I should have just hoofed it out."
The goal was the only blot on an otherwise positive night for Germany, who opened up an eight-point lead at the top of Group C above Sweden, Austria and the Republic of Ireland, all of whom have games in hand.
"The important thing was to get the three points," said Ilkay Gundogan, who scored his first international goal. "Of course it was a bit unfortunate to concede, but you could see we're playing well and I think we can live with this."