Germany coach Joachim Low hails Borussia Dortmund goalkeeper Roman Weidenfeller
Germany coach Joachim Low has paid tribute to Borussia Dortmund goalkeeper Roman Weidenfeller.
Last Updated: 27/05/13 10:35am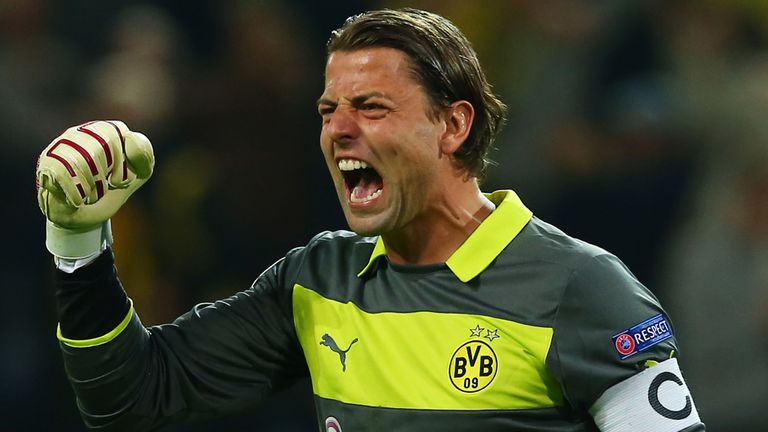 Weidenfeller was the only German player on the field at Wembley not to have won a cap, but while the Germany coach was full of praise for the keeper, he stopped short of opening him a door into his squad.
"Of course it has not escaped me that Roman has played a fantastic season," said Low from the national team's post-season training camp in the USA.
"If you look at the performances in recent years, then Roman would certainly have deserved a cap."
However, at the age of 32, Weidenfeller no longer fits the blueprint Low is looking for, especially as he continues to view Bayern Munich custodian Manuel Neuer, 27, as his number one.
Behind him, Hannover's Ron-Robert Zieler, 24, and Borussia Monchengladbach's Marc Andre ter Stegen, 21, complete the hierarchy.
"You've got to consider what age your number two or three have at a World Cup," added Low.
His goalkeeping coach Andreas Kopke has given Weidenfeller greater hope of finally earning that first cap, however, by suggesting he could be taken along to the World Cup next summer.
Hans-Jorg Butt was part of the Germany squad at Euro 2012 at the age of 36, proving that age alone is not the defining criteria.
"For the 2014 World Cup, we need to nominate three goalkeepers who all fit in well together," he is quoted as saying in the Welt newspaper.
"Roman Weidenfeller could be one of those. We do notice how well he is playing. Everybody can see that."
Weidenfeller is not currently thinking about the national team, however, as he tries to get over the disappointment of Saturday's 2-1 Champions League final defeat to Bayern Munich.
He has vowed to bounce back next season and challenge Bayern for their honours.
"We've just got to let it sink in first and then we'll come back stronger after our holidays and attack them again from August," he said.