Lukas Podolski has shrugged off criticism after scoring twice against Equador
Lukas Podolski has shrugged off criticism after moving up to sixth in the list of all-time top Germany goalscorers.
Last Updated: 30/05/13 10:34am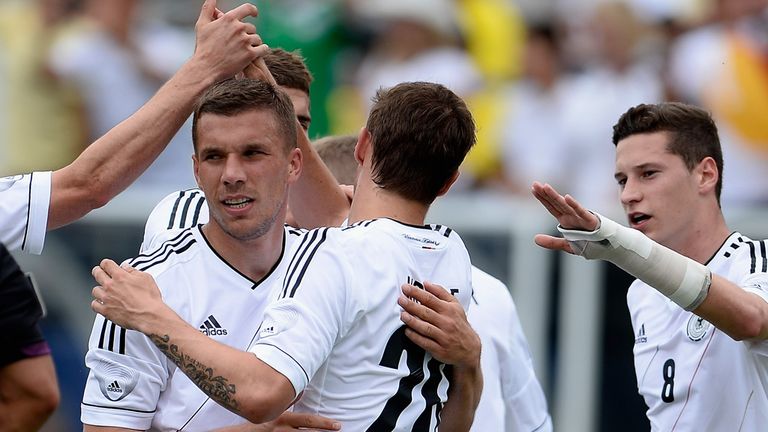 The Arsenal striker responded to comments from Germany's general manager Oliver Bierhoff, who said he had not been impressed with the player's first season with the Gunners, by helping Joachim Low's side to a 4-2 win over the South American in Boca Raton.
His 45th and 46th international goals took him ahead of Karl-Heinz Rummenigge and to within one goal of Jurgen Klinsmann and Rudi Voller after his 109th cap, but Podolski said Bierhoff's words had not necessarily spurred him on.
"It is always being made out that I need to be motivated, but that is not the case," he said.
"I just wanted to play a good game. We wanted to put them under pressure from the beginning."
Germany managed that with Podolski scoring the quickest goal in the national team's history after only nine seconds.
"That's great and I would lie if I said it meant nothing to me - I'm happy to take this record," said Podolski on the website of the German Football Association.
"But I would not read too much into it. There have been more important goals."
Podolski was the most experienced member of Low's team with over a century of caps, followed by Arsenal team mate Per Mertesacker, who made his 89th appearance.
Meanwhile, there were debuts for Sidney Sam as well as Max Kruse and Podolski was full of praise for the more unfamiliar faces in a Germany shirt.
"You have got to pay them a huge compliment," he said. "I can still remember my first cap well and so I know how they are feeling.
"The new faces fit into the team well. I'm really pleased that things worked out so well and they were able to celebrate a successful debut.
"You can only congratulate them - the first international game is always something special."
And Podolski's next one is set to be special too as he gets the chance to match Klinsmann's scoring record right under his very nose.
Germany face Klinsmann's USA on Saturday in Washington.
"That's definitely going to be a great game," he said. "The stadium in Washington will be sold out and the atmosphere is going to be a lot different to against Ecuador.
"Of course it's special to come up against Jurgen Klinsmann as a coach. Now we want to win our second game here."