International: Germany goalkeeper Roman Weidenfeller pleased with call-up
Borussia Dortmund goalkeeper Roman Weidenfeller says it is "something special" to be involved in the Germany team.
Last Updated: 12/11/13 9:33pm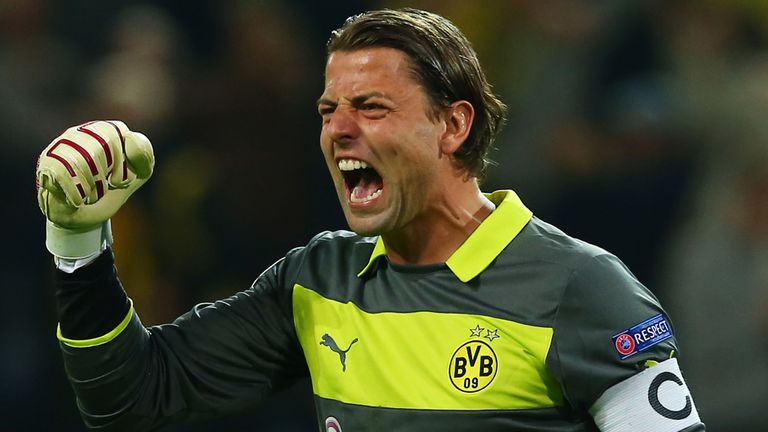 The 33-year-old has earned his first call-up to the Germany squad for the friendly matches against Italy and England over the next week, and he had a wide smile as he met the media for the first time in a senior national team uniform on Tuesday.
"It's something special to be allowed to be here," he said.
"I'd like to thank the whole coaching team for this."
Weidenfeller gets the chance to show coach Joachim Low his worth over the next week, although he will not make his debut against Italy with goalkeeping coach Andreas Kopke confirming that Manuel Neuer will start on Friday night.
He could play at Wembley next Tuesday, however, debuting at the scene of his side's defeat to Bayern Munich in the Champions League final in May.
"That would be a dream come true for me," he said.
"But I don't want to speculate who will stand between the posts for that game.
"Just being recognised as part of the national team is decisive for me."
That has become reality after years of lobbying from many people, including
Dortmund coach Jurgen Klopp, who once said he was the best goalkeeper in the world who does not play for his national team.
Kopke, sitting alongside Weidenfeller at a press conference, denied that the Dortmund stopper had been disregarded over the years, but said now was the right time to call him up.
"In view of the World Cup, this is the last chance to try something and Roman has been playing consistently at a high level and his call-up is therefore deserved," he said.
"When you look at the way Roman has developed, then calling him up was only logical.
"We want to see him in training and see how he fits into the team."
Mesut Ozil and Per Mertesacker were not in training on Tuesday as they remain in London due to illnesses. Kopke said they may not fly to Germany at all, but could remain in England and join the squad for Tuesday's friendly in the capital.
Meanwhile, Miroslav Klose has arrived in Germany, but he is still a doubt for Friday night's clash at the San Siro due to a shoulder injury.