Roy Hodgson says England's Daniel Sturridge and Wayne Rooney will strike fear into Germany
Roy Hodgson believes England duo Wayne Rooney and Daniel Sturridge will strike fear into Germany's defence.
Last Updated: 19/11/13 8:25am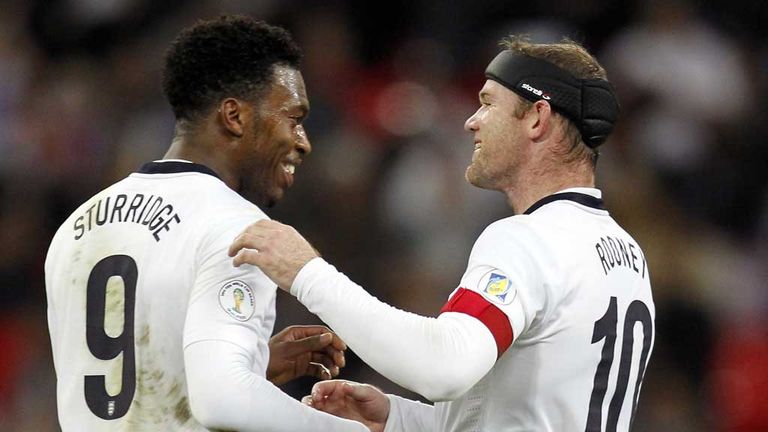 The England manager is eager to see the duo prosper again on Tuesday night after encouraging signs in World Cup qualifying and has picked both to start in a much-changed team from the one beaten by Chile last Friday.
Joe Hart has been confirmed in goal to face Germany at Wembley, the defence will be Kyle Walker, Chris Smalling, Phil Jagielka and Ashley Cole, the midfield will consist of Andros Townsend, Steven Gerrard, Tom Cleverley and, keeping his place, Southampton's Adam Lallana.
But the front pair of Rooney, with Sturridge ahead of him, is what excites Hodgson most.
"I am looking forward to seeing them more than the German defence will be," he told Sky Sports News.
"Those two players could carry a lot of responsibility going forward for our attacking threat because they both have such enormous potential and talent.
"Hopefully, there will be others breathing down their necks but I was really happy with those last two qualifying games when the pressure was on us and we had to get results.
"They did well for us and it will be nice to see them tomorrow but I don't envisage them playing 90 minutes together."
Sturridge has talked of his partnership with Rooney being similar to the one he has with Luis Suarez at his club, Liverpool, and Hodgson confirmed he is close to full fitness after a thigh injury.
Gerrard, a club-mate of former Manchester City and Chelsea player Sturridge, is also pleased England's burgeoning forward partnership will be given more time to develop.
The England captain said: "You talk about his partnership with Rooney, but the difference is Wayne has done it. Daniel has got to go and do it now and certainly has the talent.
"I was surprised Chelsea let him go. I had seen flashes of him at Manchester City and Chelsea and really liked what I saw.
"Now I have worked and played with him at close quarters for Liverpool and England, I am a huge fan. The stage is set for Daniel to prove to everyone he is a top-class forward."
The stage is also set for Hart, who will be back in the starting line-up after being dropped by his club, Manchester City, and missing Friday's friendly against Chile for England while Fraser Forster was given a chance.
The goalkeeper has endured a difficult few weeks but looked sharp in training on Monday morning and Hodgson insisted his backing for Hart is still strong.
Hodgson said: "This is another chance for him to show he is a top-class goalkeeper and deserves his place as the No 1 for England. He is doing it against a team who can cause our defence plenty of problems.
"I am sure he will respond very well. His club career is not my business but he is a proud man, very pleased to be playing for England and has done well for us. We have had no cause to doubt him during these very important qualifying games or during the Euros.
"He is entitled to feel confident when he puts on an England jersey that we are all behind him. We all think he is a very good goalkeeper and expect him to play well tomorrow."
The only surprise in England's starting line-up, which was revealed after it became clear in training, is the inclusion of Lallana.
Hodgson claimed the midfielder deserved more time to prove his quality after making his debut last week.
"He is one who hasn't had as much chance to work with the rest of us and show what he can do," the manager said.
"He is capable of playing in one of the positions where we are short because Theo Walcott, Alex Oxlade-Chamberlain and Danny Welbeck are all missing. I am looking forward to seeing him play again but was more than satisfied with his performance against Chile."
Asked about competition at left-back, with Leighton Baines applying pressure on long-time first-choice Cole, Hodgson insisted he is happy with the competition for places throughout the squad.
"It's not just at left-back, there are more and more positions where the competition for places is really hotting up," Hodgson said.
"That's how it should be and that's why we're in this fortunate position to choose almost two totally different teams, one to play against Chile last Friday and one to play against Germany now on Tuesday where we're not stressing the same players over and over again."
Hodgson hopes the competition will continue ahead of the World Cup finals next summer as he bids to improve England further.
He added: "The challenge is going to be to some extent making certain that we've got the right squad of players going to Brazil and there's some sort of balance in that squad, so players complement each other.
"Handling the competition for places is another factor which we'll have to take into account, with three matches in a week in tough climatic conditions.
"The most important thing is that I'm very pleased with the team. We have a group of players who are constantly satisfying me in terms of their attitude, the way they approach their work and their business."