World Cup final: Manuel Neuer hails Germany team spirit after win over Argentina
Last Updated: 14/07/14 12:01am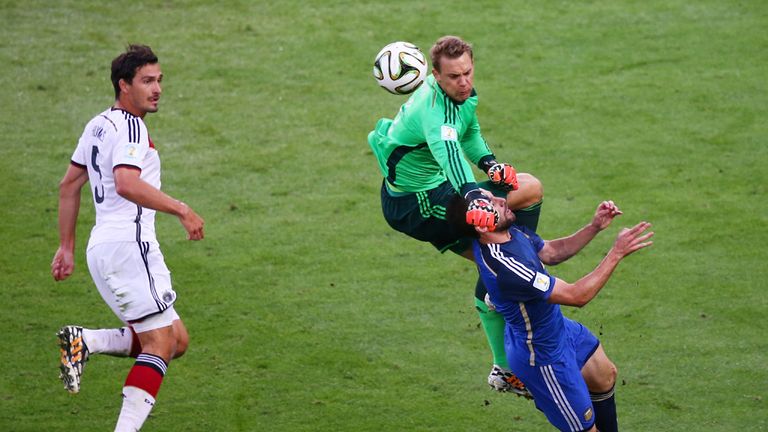 Germany goalkeeper Manuel Neuer hailed his side's remarkable team spirit after their 1-0 World Cup final win over Argentina at the Maracana.
Neuer, who was named goalkeeper of the tournament following the extra-time victory, paid tribute to the squad and coaching staff, as well as the players who were unable to travel to Brazil due to injury.             
"It's unbelievable," he said. "All of Germany is world champions now.             
"All those who didn't play brought such togetherness into the team, that's why we won the World Cup."             
Substitute Mario Gotze volleyed home with just seven minutes of extra time remaining to clinch Germany's fourth World Cup and the first by a European side on South American soil.                      
Neuer also played a key role in Germany's triumph as his perfectly-timed dashes out of the area to cut off opposition breaks instilled confidence in his back four and helped launch fast counter-attacks.            
"It's not about me and whether or not I risk my neck for the team," he added. "The team did a super job, everything was great, the team behind the team.             
"We're going to celebrate for at least five weeks now. At some point we'll stop celebrating but we'll always keep waking up with a smile."
Captain Philipp Lahm added: "What we have done and how we have worked is incredible.
"Whether we have the best individual players or whatever does not matter, you have to have the best team.
"We stepped up time and again in the tournament, did not let ourselves get distracted by any disruption and went on our way.
"And at the end you stand there as world champions - an unbelievable feeling. The team has remained quiet and patient."
Centre-back Mats Hummels said: "I am still completely trapped in another world, physically too exhausted to be able to rejoice euphorically. But that will come in the coming days.
"You can only be world champions when you act as a team. We wanted to make that clear to everyone the whole time and we achieved that, even if we got that little bit of luck in the final as we were already a bit waiting for penalties."