Fabregas hungry for more
Cesc Fabregas has warned the rest of the world that Spain have the potential to march on to further success after winning Euro 2012.
Last Updated: 02/07/12 8:22am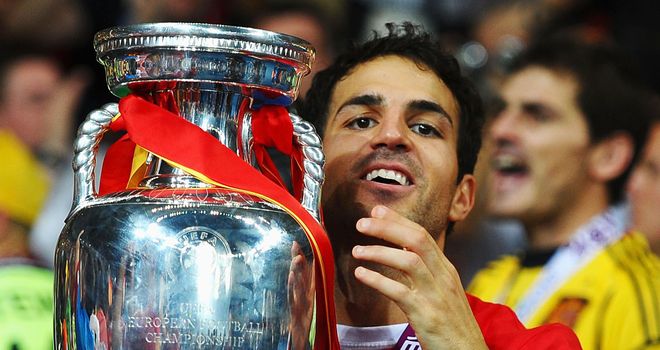 Cesc Fabregas has warned the rest of the world that Spain have the potential to march on to further success after winning Euro 2012.
Spain made history with a 4-0 victory over Italy on Sunday night as they triumphed in a third successive major tournament, having kicked off the golden era at Euro 2008 and also come out on top at the World Cup in South Africa.
Fabregas says the squad will savour the moment before refocusing on the future, and he believes Spain can claim more silverware if they do not rest on their laurels.
"Considering we are 23, 24, 25, 26, most of us, except two or three, it says we can keep going," he told Sky Sports News.
"But it depends on us. We have to really behave properly, we have to want more and be hungry for success.
"Definitely this team has been showing that for the past four years and we have to keep going.
"Every year it will become more difficult because teams will want to beat us more, but we just want to enjoy tonight and then we will think about the Confederations Cup next season."
Proud
Spain have been labelled boring in some quarters during the tournament for playing without a recognised striker and remaining patient in possession.
However, Fabregas believes the rest of the footballing world has been impressed by Spain's style of play and has pointed to their record of 12 goals scored and one conceded at Euro 2012 as proof of their all-round ability.
"From our point of view it has been difficult because we have had a lot of pressure from the press, but once again this team proved everybody wrong and even we are impressed with what we have achieved," he explained.
"We are very proud of the way we play. If we have won things for the last four years it is because of the way we play, because we believed in that style.
"We did not have to change anything. We did not have to prove people wrong because they thought it was boring, and it is not about what we won but how we did it.
"I think we have impressed the world with our technical ability and tactically, because it is not just about going forward scoring goals.
"Defensively we have been very compact and strong, only conceding one goal and scoring 12. I don't think that is a boring team."
New challenge
Fabregas was the man asked to play furthest forward in most of Spain's games and he admits it was a new challenge to lead the line, but one he relished.
"It has been different. I am a midfielder who plays behind the striker, that is where I play the most," said the 25-year-old.
"But I felt very good and I feel very proud and honoured to play with this team.
"But to me playing as a No.9, No.10 or No.8, it doesn't matter. The most important thing is the attitude and discipline of this team has been spot on since day one, and we showed the world that we have a style of play and we can win with that."
Fabregas added: "We still cannot believe that we won three major trophies in a row. For us it is just fantastic.
"When you go through these moments there is nothing better than that because football is about winning and we are managing to do that and for us it is amazing."