Andres Iniesta says Barcelona's style is not the only way to success
Andres Iniesta believes Spain and Barcelona have proven that talent can come out on top over physicality.
Last Updated: 10/11/12 12:40pm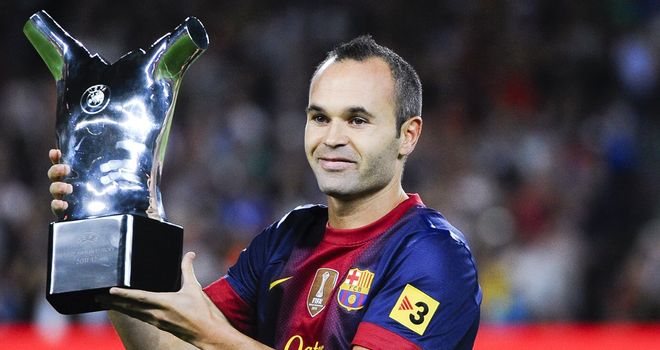 Barcelona have earned rave reviews for their passing approach over the past few years, while Spain have also dominated on the international stage with a similar possession game.
Iniesta is happy to play in such a manner that pleases supporters, but appreciates there are many ways to achieve success and can understand that other teams are suited to different methods.
He explained in The Independent: "We play the way we do because it suits us. If we played any other way we would not have the players to pull it off. It's pragmatic.
"We believe we have the best chance of winning playing this way but the football that Spain and Barcelona play is not the only kind there is. Counter-attacking football has just as much merit. There are many different styles and variations; that is what makes this such a wonderful sport."
Iniesta added: "Without the trophies it would all mean a lot less. What we have done is prove that it is possible.
"Euro 2008 showed you could win with a group of players who weren't physically imposing in any way, in fact who were completely the opposite. We showed that, luckily for football, in this sport pure talent can come out on top of the purely physical."
Spain made it three major tournament wins in a row at Euro 2012 and Iniesta is already getting excited about the challenge of trying to win the World Cup on Brazilian soil in two years' time.
He said: "The secret of sustained success is that there is always something new. In Poland and Ukraine it was doing what nobody had done before.
"Now there is the chance to win the World Cup in Brazil: what more of a challenge could there be? A Brazil finals is unique; it is a massive extra in terms of motivation.
"Maybe after winning two Euros and a World Cup you would think there would be nothing else to strive for; then this comes along. It's a gift."