Vicente del Bosque acknowledges his Spain side cannot afford to get too wrapped up in their past glories
Vicente del Bosque acknowledges his Spain side cannot afford to get too wrapped up in their past glories.
Last Updated: 01/01/13 8:54am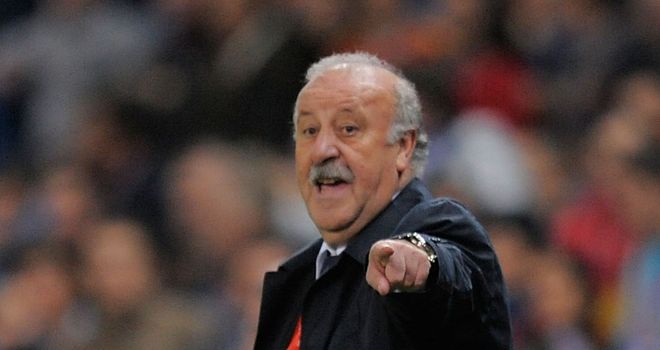 Spain could hardly have enjoyed a better 2012, finishing unbeaten with 14 victories in their 16 matches while also retaining the European Championship title they won in 2008.
The Spanish are also the reigning World Cup winners, but Del Bosque is keen to look forward rather than back.
He said in AS: "It's been a good year for the national team. Winning the European Championship for the second successive time was a challenge and we achieved it.
"But it's not advisable to gloat about all that's happened in the past if we want to maintain the same level in the future."
Spain resume their qualifying campaign for the 2014 World Cup in March with a double-header against Finland and France.
Finland prop up Group I with one point from two games but France are locked on seven points with pacesetters Spain, and the clash between the two local rivals on French soil could well decide who finishes in top spot.
France drew 1-1 with Spain in Madrid in October thanks to a 94th-minute equaliser from Olivier Giroud.
Asked about his hopes for 2013, Del Bosque said: "The first objective is to obtain our ticket to the World Cup in Brazil.
"In March we have two decisive matches, against Finland and then against France.
"Beating Finland would give us peace of mind to go to Paris, in a match that could be decisive, although we mustn't forget that we can't allow ourselves any sort of slip-up in qualifying against any of the opponents who are theoretically more beatable, because that would be fatal."
Del Bosque also hopes to add another piece of silverware to Spain's growing trophy cabinet this summer when they compete in the Confederations Cup in Brazil, a competition he says they are treating with "the utmost respect and great enthusiasm" and is the source of invaluable information ahead of the World Cup.
He said: "It's an event Spain have only been in once, where you need to be
continental champions to take part.
"The Confederations Cup is interesting. It served Spain very well to take part (in 2009) and then go on to win the 2010 World Cup. We knew the stadiums, the atmosphere, the conditions and also the difficulties of a tournament which simulated the World Cup format.
"Losing to the United States in the 2009 Confederations Cup (semi-finals) was a lesson which helped us wise up in 2010. In the end, these experiences helped us in the World Cup.
"I hope we can once again take advantage of the next Confederations Cup, which we will go to to compete with the best and with the intention of winning."