Cesc Fabregas plays down war of words between Barcelona & Real in Spain squad
Cesc Fabregas insisted that the Spain team is united despite the war of words that has taken place this week.
Last Updated: 12/06/13 11:26am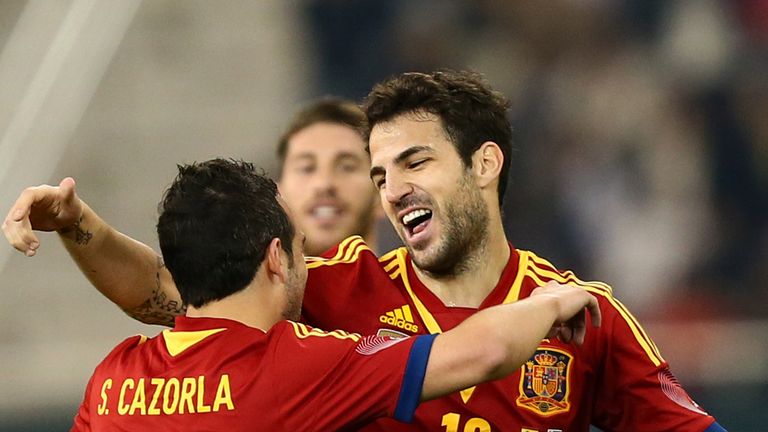 Fabregas and his Barcelona team-mates Andres Iniesta and Xavi Hernandez have all criticised Mourinho in comments to the media, prompting a typically acute response from the Portuguese, who said the players were merely angry with him for breaking Barcelona's dominance in the Spanish league.
But the midfielder, who came on as a substitute during Spain's 2-0 win over the Republic of Ireland, said there were no hard feelings among the Madrid and Barcelona players.
"We are a group, we have all come here to compete together, everything that takes place outside that is irrelevant here," he said.
Fabregas also said he was not worried about his chances of holding down a starting berth during the Confederations Cup, despite not featuring in the starting line-up against Ireland.
The Barcelona midfielder played most of Spain's Euro 2012 games in the 'false nine' role but the inclusion of David Villa and Roberto Soldado meant he had to wait until the 59th minute before making an appearance.
"I have to accept my error, whatever it is. The tournament has not started yet and we have many alternatives up front. We have three strikers (Villa, Soldado and Fernando Torres) but I can play up front, so can Silva, so can Pedro, it depends on who we are playing and who is in the best form."
He also reaffirmed the ambition within the team to go and win the Confederations Cup.
"I'm looking forward to the tournament with a lot of excitement, as always," he said.
"It's the one trophy we haven't won and we all want to win it."
Juan Mata wrapped up the victory over the Republic of Ireland by scoring with two minutes left in his 25th appearance for Spain, and said his team were relieved to overcome another team who deployed ultra-defensive tactics.
"In the end we managed to win, it was another difficult game against a team that sat back against us and defended," he said.
"The most important thing is that there were no injuries and we are preparing well for the competition."
Vicente Del Bosque claimed that Spain should have scored more goals but Mata did not think his side would struggle to score goals during the Confederations Cup.
"I'm sure that with the three strikers we have the goals will come," he said.