Spain coach Vicente Del Bosque not playing favourites by selecting Iker Casillas
Vicente Del Bosque insists he is not giving Iker Casillas preferential treatment by selecting him for Spain.
Last Updated: 18/06/13 8:39pm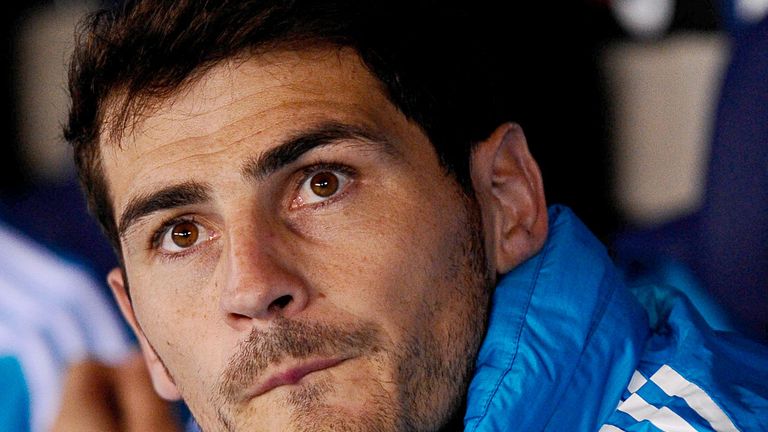 The Spain captain missed the last four months of the league season due to a combination of injuring his hand and losing his place in the Real Madrid side to Diego Lopez.
In contrast, Victor Valdes and Jose Reina remained first choice for Barcelona and Liverpool respectively throughout the season.
"There is no favouritism towards Casillas," Del Bosque said during an interview with Radio Marca.
"We took many things into account when deciding and certain details made us feel inclined to start him.
"People keep saying that it as if I owe Iker something, but sporting questions always come before personal ones."
Casillas fell out of favour with former Real manager Jose Mourinho last season and was dropped on two occasions before Lopez was signed in January.
Del Bosque believes what went on between the goalkeeper and the Portuguese coach at Madrid had little significance for the national team.
"I want to isolate myself from the clubs. A lot has been made of this particular case, but no-one can doubt that Casillas has played many games for Spain.
He deserves to be respected," Del Bosque said.
"A young lad that came through the ranks at Real Madrid deserves to be loved, even with the defects he has."
The goalkeeper's relationship with club and country team-mate Alvaro Arbeloa has also been called into question, with the defender himself admitting that the pair "do not have the same connection we used to have".
But Del Bosque dismissed the issue, saying: "It doesn't worry me, they only have to get on with each other on the pitch."
He also said he had been impressed with the Spain under-21 side's exploits in the European Championships in Israel, but made no promises about promoting any of the players, including Thiago Alcantara and Isco, to the first team in the immediate future.
"We discussed bringing them to the Confederations Cup but we have some very good players ahead of them, as was proved against Uruguay," he said.
"We don't have to renew our squad for the sake of it. They (the Under-21 players) have to put a lot of pressure on us because we have a stable squad.
"We have some brilliant players on our substitutes' bench."