Confederations Cup: Vicente Del Bosque hails Spain after 3-0 win over Nigeria
Vicente Del Bosque praised the versatility of his players after they beat Nigeria 3-0 in the Confederations Cup.
Last Updated: 24/06/13 12:18pm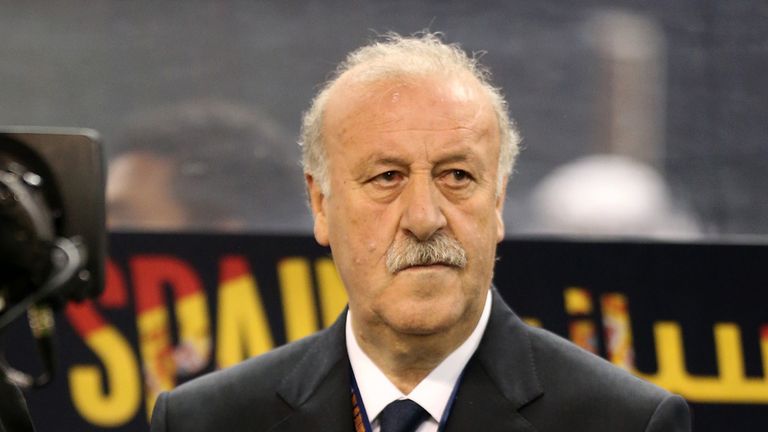 Full-back Jordi Alba got Spain's first and third goals, while substitute Fernando Torres got the second.
The Spain coach told Spanish TV channel Telecinco: "Jordi was immense, but the key to our style of play is that every player feels a bit like a defender, a bit like a midfielder and a bit like a forward. This richness is difficult for our opponents to cope with.
"I'm a coach that prefers to focus on players than systems. We have a style of play and formation we start with but it's up to players like Jordi and others to put it into practice."
Torres came off the bench to replace Roberto Soldado, who squandered two goalscoring chances in the first half, but Del Bosque insisted he was pleased with the performance of both players.
He added: "Soldado did a good job, and got free of his marker and got into positions to shoot on his own. Then Torres came on and scored a classic striker's goal. I'm happy with both of them."
He also had words of encouragement for Nigeria and thought the Africans, as well as his own side, could have added to the scoreline.
"They played a very dynamic and happy style of football," he said. "They were always looking to win the match. They didn't take any risks in midfield and were constantly on the attack.
"It wasn't easy at all, it was especially difficult in the first half because they contested possession, played with incisiveness and advanced into our area.
"In my opinion it was a short scoreline for both teams, because both deserved more goals."
The match with Italy is a repeat of the Euro 2012 final, which Spain won 4-0, and Del Bosque believes Cesar Prandelli's side will be extra motivated by the defeat in Kiev.
"Italy will have the Euro 2012 final fresh in their minds and will play with a spirit of revenge," he warned.
"Not much has changed since then (the Euros), we both have maintained a stable block of players and have the same coaches.
"They are very difficult opponents - one of the great sides of Europe and the world."
Defender Sergio Ramos admitted that Spain were affected by the humidity in the stadium, and Telecinco reported that midfielder Sergio Busquets vomited before the game, but was eventually able to complete the 90 minutes.
"The conditions made things more difficult for us, we are physically worn out but we will work as hard as necessary to get back to good shape for the next game," he told radio station Onda Cero.
On the semi-final, he added: "We have very good memories of playing Italy, we know them so well. They are a great team, and we hope it'll be a lovely game."