Confederations Cup: Vicente Del Bosque heaps praise on Italy
Vicente Del Bosque heaped praise on Italy and said Spain had "suffered" in seeing off the Azzurri at Confederations Cup.
Last Updated: 28/06/13 10:57am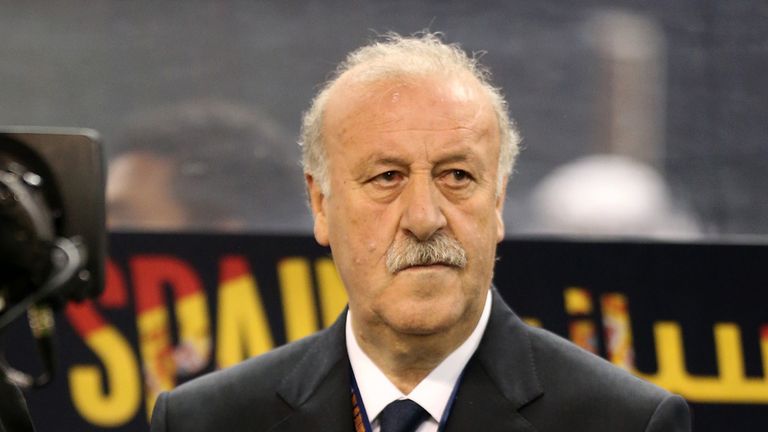 Del Bosque's men were second best for large parts of a match which finished goalless after 90 minutes and extra time.
But the shoot-out went their way with the first 12 penalties converted before Leonardo Bonucci sent his over the bar, allowing Manchester City winger Jesus Navas to score the decisive spot-kick.
Spain will now meet hosts Brazil in the final on Sunday.
"We suffered a lot against an excellent team," said Del Bosque.
"They were better than us in the first half, when we played awkwardly.
"They opened the pitch up thanks to full-backs [Christian] Maggio and [Emanuele] Giaccherini.
"We tried to solve the problem but couldn't, but we managed to cancel them out by correcting our errors. We were better in extra time, and it's amazing that the match ended goalless.
"The players need to relax now and stay calm because they put in a tremendous effort. Even I am exhausted and I have barely moved, so imagine how the players must feel."
Del Bosque was visibly nervous during the penalty shoot-out and watched it alone from the dugout, while the substitutes and the rest of his coaching staff congregated on the touchline.
He later explained that his assistant, Toni Grande, chose the penalty takers.
"We had players that were confident takers, but you can't train yourself for penalties. There is no real preparation for being up there, it's like facing a bull."
The clash with Brazil is one which excites veteran Del Bosque.
"We have that childish excitement about facing Brazil at the Maracana, it's stupendous for us. I hope we are physically fresh. We will try to represent our country well and be a headache for Brazil," he said.
Navas was admirably relaxed when slotting in the decisive kick.
"I was calm, because this group of players transmits tranquility and confidence," he said.
"When you are taking a penalty you can't have any doubts, you have to be very clear about what you're going to do."
The former Sevilla winger added that being in the final against Brazil was an ideal situation.
"It's what we were looking to do as soon as we arrived here. We are going to enjoy the final against Brazil and try to bring the cup home with us."