World Cup: Spain's David Villa concedes his international career is all but over
Last Updated: 24/06/14 10:00am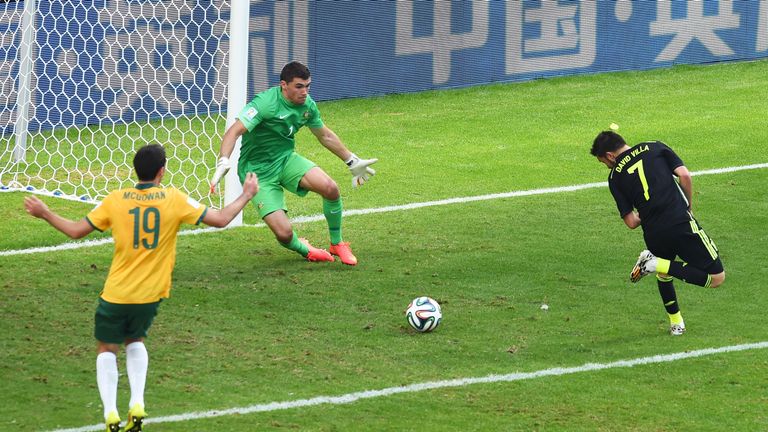 Record-breaking Spain striker David Villa concedes his international career is all but over after bowing out with a goal in his final appearance.
Spain's all-time record goalscorer, who took his tally to 59 in 97 games with the opener in the 3-0 win against Australia on Monday, has agreed a three-year deal to join new MLS side New York City FC.
However, despite leaving the pitch in tears after being substituted in Curitiba, Villa would be happy to wear the national jersey again.
The 32-year-old said: "I've always said that I love playing in the national team and that's what I've always dreamed of. I would play until I'm 55, but I'm aware that's impossible.
"I've taken the decision to go to MLS and, as such, I will be without any competitive matches for several months which makes it difficult to continue.
"Then, after these six months, we'll see. If the coach wants to call me up, I would be delighted, but it's difficult and you need to be realistic. It would be normal that it all finishes here."
Villa's goal against Australia left him 15 clear of Spain's next-best goalscorer, Raul, while Fernando Torres is third in line with 38 goals having also netted in the world champions' final Group B match.
"I hope that not many years pass by for my record to be broken because that would be good for Spain," Villa said. "I'd be happy if they overtook me because I will always be in this national team's history."