Joachim Low and Mathieu Valbuena react to Germany's 2-1 friendly win in France
Germany coach Joachim Low saw a lot of positives in his side's 2-1 friendly win over France in Paris on Wednesday.
Last Updated: 07/02/13 9:14am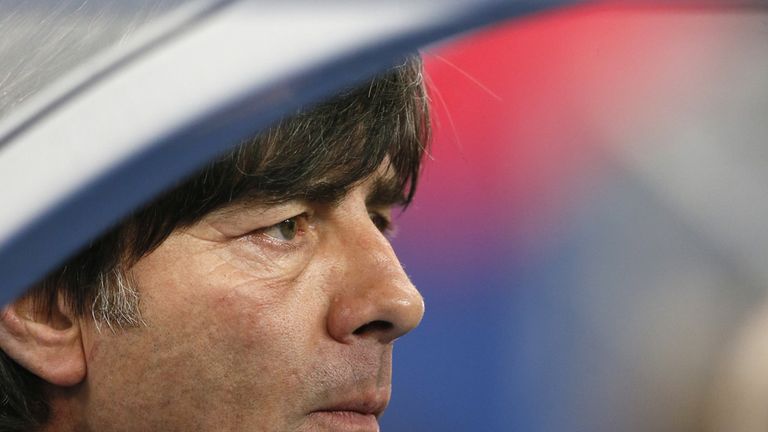 Germany picked up only their second-ever win on French soil, their first since 1935, and they had to come from behind to do so, which pleased Low the most.
"We showed great morale to bounce back from conceding just before half-time," he said.
"We did a lot of things right tonight that we did not do so well against Holland (in November) and I think that games like this show how friendlies can also be good tests.
"Tonight, both teams played to win."
For all the positives in Germany's first year-opening victory since 2008, Low found plenty to work on before a World Cup qualifying double-header with Kazakhstan next month.
"We were very good going forward today, but we have got to be stronger in defence," he told Germany's ARD television.
"In the end, we were a bit lucky that they did not make it 2-2 as we made some mistakes."
Rene Adler ensured Germany did hold on to victory, and he admitted nerves and emotion had accompanied his first national team appearance in over two years.
"I've still got to catch my breath," he said. "I was a bit nervous - it's certainly something else to play here when my last game (for Germany) was in November two years ago, so it was emotional.
"But I couldn't care less about only being number two right now. I know what the situation is and I know what my role is."
The role of Mesut Ozil is less clear, however, after he was used as a solitary striker by Low, who admits he has various options still in his mind for his best attack.
"Mario Gomez does not have much match practice, which is why I thought I would take a look at this," he said.
"I wanted to be a bit more variable with Mesut and Toni Kroos and I think it worked well.
"Maybe I can play with two up front too, if they get on well. I can imagine Marco Reus and Mario Gotze up there, for example.
"We have got to have players who are unpredictable and want the ball played through to them."
France goalscorer Mathieu Valbuena was disappointed with the result, but saw enough in his side's performance to give him encouragement ahead of next month's World Cup qualifiers against Georgia and Spain.
"We are very disappointed, frustrated," he told L'Equipe.
"We played well but we paid the price for our mistakes. That it how it is at the top level.
"We had a lot of chances. Unfortunately we lost, but I would sooner lose this match than the next two against Georgia and Spain."
The manner of the opening goal, a six-yard header, was a rarity for the diminutive Valbuena.
"It's my first as a professional," said the Marseille playmaker. "It proves that even though you are small you can score with your head, be opportunistic."