Newcastle's Yohan Cabaye reveals he battled depression after Euro 2012
Yohan Cabaye has revealed that he battled depression last year after a gruelling debut campaign in English football.
By Patrick Haond
Last Updated: 26/03/13 6:47pm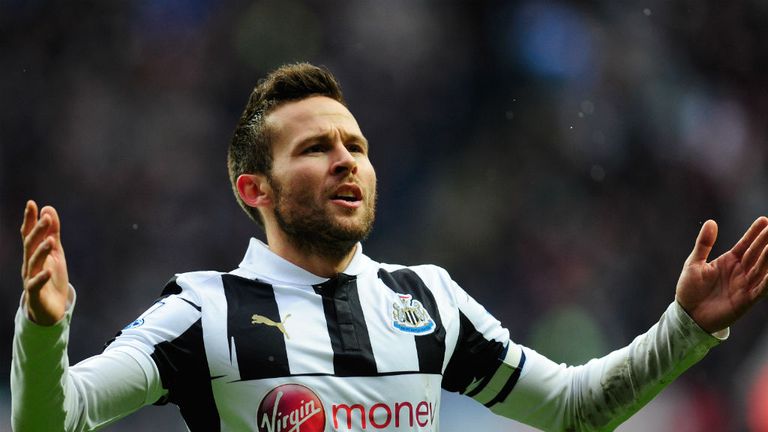 The former Lille star joined Newcastle in the summer of 2011, and he had a sparkling year which ended with his appearance for France at Euro 2012.
But he admits that not having a winter break for the first time in his career took its toll on his body, which led to a bout of depression.
Cabaye, though, feels that the groin injury he suffered midway through this season in many ways helped him and he now feels he is getting back to his best.
"Depression? I am not afraid to say that. It was that," he explained to L'Equipe.
"But I was reassured reading the books of Jonny Wilkinson and Rafael Nadal, who both talked about the same thing. They talked about post competition depression and the need to have a break.
"Euro 2012 was the first big international competition I had played. It is completely different than what you could experience in daily life with your club.
"My season was long in a league where the pace is higher than in Le Championnat. I started with Newcastle early in July 2011 and finished late in June 2012 and, for the very first time, I didn't have any winter break so then to resume in July 2012, it was very difficult. Maybe it is difficult to start again after a big competition such as the Euros, but my body didn't allow me to do what I wanted to do.
"On a morning when I woke up, I could still feel tiredness. I wanted to think about something else rather than football.
"I am lucky to earn a living with my passion, but it was the right moment for a break. So my groin injury at the end of the year was finally not such a bad thing. Maybe that is why I was back earlier than expected.
"I asked myself a lot of questions. As long as you didn't experience it [depression] you cannot understand. But I was not worried.
"My injury allowed me to have some rest, meet my family and friends in Lille. When I was back in Newcastle in December I knew I felt better, but I never complained to anyone but my entourage."
Back to his best
Cabaye insists that he feels so much better following the surgery on his groin and he is now loving football again.
He added: "When I underwent surgery, I never asked myself if I would find my best level. My only desire was to cure my adductors, not feel any more pain and to be back perfectly fit in 2013.
"Physically I feel perfectly fine now and I am keen to fight for the club. I want to give twice as much to save the club from the drop. I want to prove to the fans that they can trust me and I can defend the Newcastle colours.
"Now that episode is over, I have much more fun going to daily training sessions. I realise how lucky I am. I felt that enthusiasm could leave and that is most dangerous."