FFF president Noel le Graet has backed France boss Didier Deschamps
France coach Didier Deschamps has received the public backing of the head of the country's football federation.
Last Updated: 11/06/13 1:02pm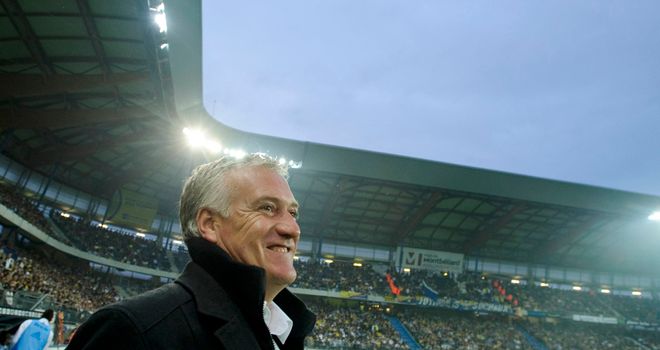 Since beating Georgia in World Cup qualifying, Les Bleus have lost three successive games without scoring a goal.
However, the opposition for those games was provided by Spain, Uruguay and Brazil, the latter two in friendlies in which Deschamps fielded an experimental side.
And FFF president Noel le Graet told L'Equipe: "I have total confidence in Didier Deschamps.
"It will seem strange to you but I think the France team are doing better. In terms of the rankings, that may seem questionable."
France, indeed, have slipped to 18th in FIFA's world rankings, though they trail top-ranked Spain by only a point in their qualifying group for next year's showpiece in Brazil.
After they were outplayed in Porto Alegre, Le Graet implied the conditions would not suit his side even if they do qualify for the tournament.
But he drew encouragement from the performances of some of the new faces in the squad - notably Lille forward Dimitri Payet, who earned his first starts at international level, and previously uncapped St Etienne midfielder Josuha Guilavogui.
"They tried very hard," said Le Graet. "In those conditions and with that team, we could not compete with Brazil.
"So many changes made it difficult to develop together, but there are also positives.
"Take Guilavogui, I had never seen him at that level. Payet played well in both games as well."
Away from the international scene, Le Graet also addressed the issue of Ligue 1 newcomers Monaco's vast wealth and tax-free status.
The principality levies no income tax on residents who are not French citizens. Combined with major shareholder Dmitry Rybolovlev's wealth, that helps make the club an attractive proposition for overseas stars such as summer signings Radamel Falcao, Joao Moutinho and James Rodriguez.
The FFF have ruled that Monaco must either register their offices in France by June 2014 to fall in line with the rest of the league, or pay a sum of 200million euros (£170m) - demands described by the club last week as "totally unacceptable".
Le Graet said: "The best solution is obviously that of the league, which demands that Monaco install their offices in France. But I am not too confident."