World Cup: France's Didier Deschamps and Hugo Lloris wary of play-off draw
Didier Deschamps does not think it is fair that France look set to miss out on being seeded for the World Cup play-offs.
By Patrick Haond
Last Updated: 16/10/13 11:25am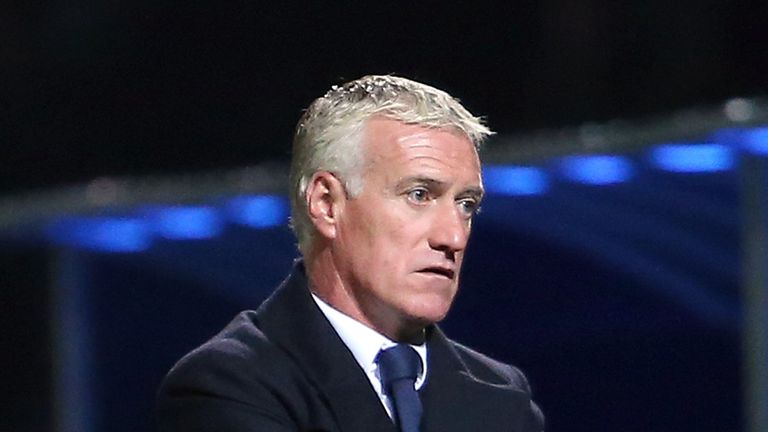 While the nine European group winners have already qualified for next year's tournament, Denmark missed out as the runners-up with the worst record and the other eight second-placed teams must battle it out for the remaining four spots.
The draw for the two-legged play-offs will be seeded based on FIFA's world rankings and October's updated standings are due to be published on Thursday.
France are currently behind fellow contenders Croatia, Portugal, Greece and Sweden and will have to play one of these sides unless there are significant changes to the rankings.
But Deschamps says France have been punished for being in a group that only contained five teams, preventing them from having the opportunity to win another couple of games against a lesser opponent and boost their FIFA ranking.
The French Football Federation has contacted FIFA to ask about the ranking system but in the meantime head coach Deschamps faces an anxious wait.
"Everyone is thinking to avoid Portugal, of course, because they have Cristiano Ronaldo. He has such an influence on his team," Deschamps told reporters after Tuesday's 3-0 victory over Finland in France's final qualifier.
"But playing Greece, Croatia or Ukraine, they're more collective but not easier or simpler to play.
"Of course, I know some better than others but I haven't started analysing our future opponents.
"We missed out on being seeded by one point. We've been a bit penalised but we'll take the opponent we draw.
"I don't know if FIFA made its final decision. We've expressed our point of view that it's a bit unfair being in a group of five and having two matches less. We don't get the points that we need for the FIFA ranking."
Ukraine are ranked one place below France in September's standings, with Romania and Iceland the other European nations who will feature in the draw when it is made in Zurich next Monday.
And captain Hugo Lloris does not think Les Bleus deserve another slice of bad luck in the play-offs after being drawn in Group I alongside world and European champions Spain.
"After the draw we were outsiders and we made Spain have doubts, but unfortunately not until the end," said the Tottenham goalkeeper after France pushed Spain close for top spot.
"Now we will get focused on the play-offs and I hope it will be a great moment for French football.
"An opponent to avoid? It would be better to avoid Portugal. We were already unfortunate with the first draw getting Spain in our group. Portugal would be another big team."