Bayern Munich's Franck Ribery is dreaming of winning the FIFA Ballon d'Or
Bayern Munich's Franck Ribery believes he has got better as a player and deserves to win the FIFA Ballon d'Or.
By Patrick Haond
Last Updated: 14/11/13 11:34am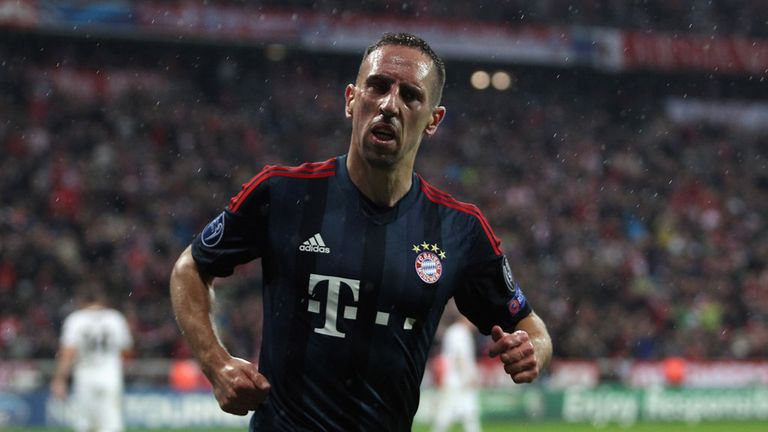 The France international helped the Bundesliga outfit to the treble last season, including lifting the UEFA Champions League.
He capped off a fine season by scooping the 2013 UEFA Best Player in Europe Award and is now one of the front-runners for this year's Ballon d'Or, which will be awarded in January.
Ribery told L'Equipe: "Ballon d'Or? 2013 is my year. I am thinking about the Ballon d'Or quite often. It gives me more strength.
"Do I deserve it? Yes. There is what I do on the pitch, what I did to come back to my best level, my professionalism every day, the trophies I won.
"I am very steady. The Best Player in Europe trophy gave me more strength. I was good before, I am better now. At Bayern, everyone believes I have to win it."
Loving Bayern
Ribery says he is enjoying playing under new Bayern boss Pep Guardiola.
"It is really great. He wanted me when he was in Barcelona. Immediately we agreed about what he expected from me," added the 30-year-old.
"He gives me a lot of freedom. With him, you learn every day. He is not here to copy Barca. He knows Bayern is a different club. He is someone who is very nice but is very demanding too. When he talks, you know who the boss is."
As regards Bayern, he admits he would like to finish his career at the club and then go into coaching.
He added: "The club represents so much to me. For the best European Player award, (held) the day before the European Super Cup, three officials made the trip with me to Monaco.
"When I came back to the hotel at 11pm, all the players came to congratulate me. That is very important to me. I am aware I did not win the trophy alone. Bayern made me strong.
"Do I still want to end my career at Bayern and then live in Munich? Yes, more than ever. I have three or four years remaining on my contract, I don't know, I don't count, I feel so happy here.
"Then, why not coaching? I would like to coach young players."