World Cup: Didier Deschamps still believes France can beat Ukraine
Didier Deschamps insists that France have to keep 'faith' that they can overcome Ukraine and make the World Cup finals.
By Patrick Haond
Last Updated: 16/11/13 5:05pm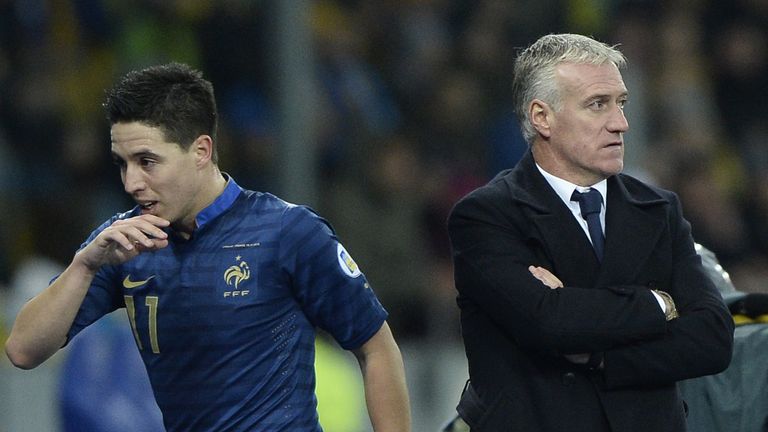 The French lost their World Cup qualifier 2-0 in Kiev to give Ukraine a huge advantage going into the second leg in Paris on Tuesday.
"We will do our best and we have to keep faith. We will need to gather all forces to turn such situation round," said Deschamps.
"The first half was quite well-balanced and in the second half we had opportunities, but opening the scoring gave them additional energy.
"This is the confirmation that the Ukrainian team is difficult to play. We have to congratulate them for their match.
"Of course they are in a favourable position, but it is up to us to recover well before the return leg. It is difficult.
"We lost 2-0 in a match where we had superior ball possession and more opportunities, but they scored.
"We had a physical fight to face and we tried to match it, but the situations were favourable to them. We were not scared as we played."
Laurent Koscielny was sent off after also conceding the penalty for Ukraine's second.
"You have to be able to keep your cool in such situations," said Deschamps.
Ukraine did a very good job of marking Franck Ribery, but the French boss did not think his star man received the protection he should.
"Of course, they really watched him closely and they had very few opportunities against only one defender, there was always one additional midfielder," he said.
"There were a lot of fouls on him, not always given - so he had few gaps, it was difficult."
Hope
Captain Hugo Lloris felt France did not deserve to lose.
"We played a very well organised team, they were aggressive and gave us stick," said.
"But I believe we had the right state of mind. We know we have now our back to the wall. but there is still some hope.
"We have quality and we are capable to turn the situation round. But it means an almost perfect match on Tuesday. The Ukrainians could hardly have achieved a better match. But we are not down."
Manchester City's Samir Nasri was another who struggled and said: "We didn't deserve to lose 2-0 considering the match content.
"We had opportunities and we were unfortunate on the two goals we conceded, because Hugo Lloris deflected the ball twice.
"It is difficult to swallow but there is a return leg. We have to show another face, be more aggressive.
"In physical terms the Ukrainians were sometimes close to the limit. We have to blow the whistle to wake up and do the right match for the return leg. In a good day we are capable."