World Cup: Former France players queue up to blast current side over Ukraine defeat
France's 2-0 World Cup play-off first-leg defeat by Ukraine has been met with a chorus of criticism.
Last Updated: 16/11/13 6:48pm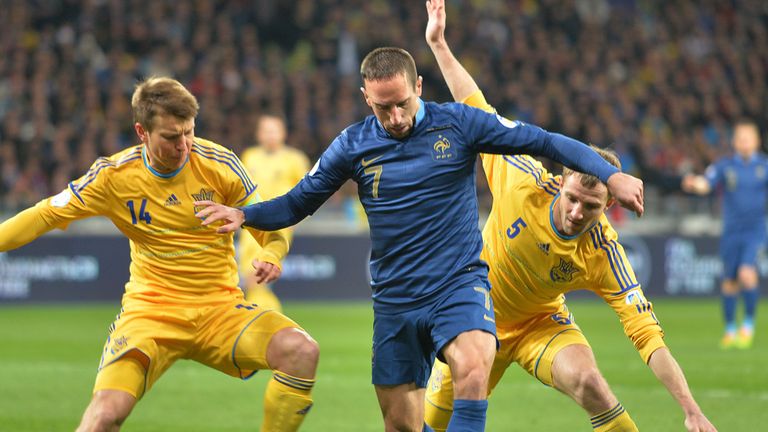 Little positive was said about the reverse in Kiev, which leaves Didier Deschamps' men facing an uphill battle to secure one of the remaining European spots on Tuesday in Paris.
French sports newspaper L'Equipe ran the headline 'Red Alert' as a number of former players queued up to have their say on the disappointing display.
Alain Giresse, a European champion alongside Michel Platini in 1984, said: "France did not meet the requirements of such a match. We really struggled.
"It's not about will, it's about judging the level of intensity needed for a game like this one."
Eric Di Meco was highly critical of coach Deschamps, saying: "We've been told that Deschamps had chosen not to field a team to control the play. But when have we managed to upset an opponent with that tactic?
"We just don't have any ideas about how to play. (Franck) Ribery was marked by three players yesterday. Yet, we never tried anything different. If we were smart on the pitch, we should have figured out how to play differently."
Bernard Lacombe, a team-mate of Giresse in 1984, added: "We were beaten in almost every aspect - for pace, winning the ball back and in the tackles.
"It's terrible. The closer we were to the final whistle, the more Ukraine were dominating."
And former Chelsea defender Franck Leboeuf said: "They have shown us they do not have the level to be in Brazil because they could not get through an encounter like that."
The sole optimistic comment came from Bixente Lizarazu, like Leboeuf a World Cup winner in 1998.
"It's possible to win 2-0, play extra-time and qualify on penalties. We have the quality for it," he said. "But if Ukraine score a goal, it will all be over."