World Cup: France coach Didier Deschamps defiant despite Franck Ribery's absence
Didier Deschamps and Hugo Lloris say France will not adjust their World Cup goals despite the loss of Franck Ribery.
Last Updated: 07/06/14 7:18pm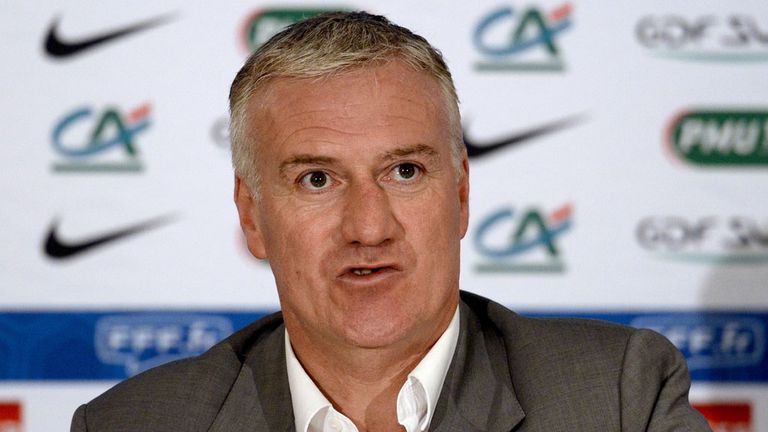 The Bayern Munich star was ruled out on Friday after failing to overcome a back problem, with his absence relegating that of Lyon midfielder Clement Grenier to a footnote.
Coach Deschamps summoned Montpellier schemer Remy Cabella and uncapped Southampton midfielder Morgan Schneiderlin from his standby list to replace the stricken pair and both he and goalkeeper Lloris are adamant nothing changes and the squad will cope.
"With the absence of Franck, we of course lose a world-class player," Deschamps told L'Equipe.
"I see the players all day so I can fit a meeting into our schedule whenever I want and I talk to them in the dressing room.
"The squad have a goal and they will have to do it without Franck and Clement. The others have joined us with the same aim."
Tottenham stopper Lloris added: "We have to respond as a team.
"Franck has an important role in the France team, he is a big player with big responsibilities.
"In our heads, we had thought about the possibility of his absence. We were desperate for him to stay with us but we had anticipated this situation.
"This does not change our ambitions at all."
Les Bleus face Jamaica on Sunday in their final warm-up game before flying to Brazil for the tournament, where they will start their campaign against Honduras seven days later.
Deschamps said: "We will see the truth tomorrow. But the real truth is next Sunday.
"Honduras are a solid team with two quick attackers. If they come to defend it is a good sign for us.
"With Jamaica, they are competitive and have some good players. We must not let our guard down or give them too much space."
Both Cabella and Schneiderlin joined the squad at the Clairefontaine national academy in time to travel with them to Lille for the Jamaica friendly.