World Cup: Didier Deschamps dropped Olivier Giroud because France 'needed pace'
By Patrick Haond
Last Updated: 05/07/14 5:10pm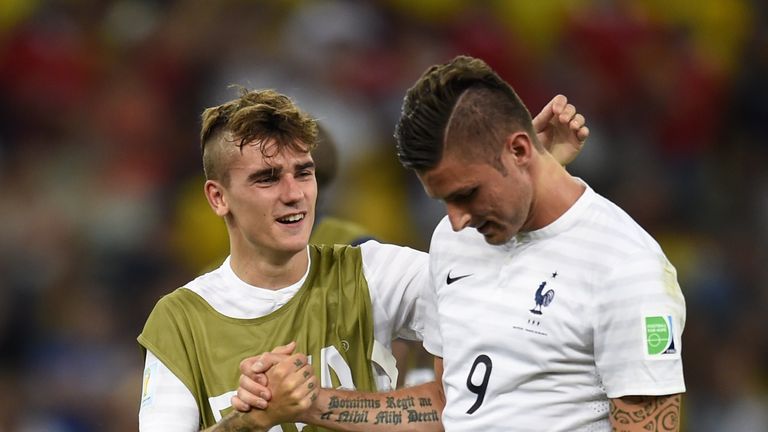 France manager Didier Deschamps says the reason to drop Olivier Giroud for their 1-0 defeat to Germany was purely tactical.
Les Bleus exited the World Cup on Friday, with Mats Hummels' early goal enough to send Germany through to their fourth consecutive semi-final.
Despite the narrow defeat to Joachim Low's side, Deschamps insists he was right to exclude Arsenal forward Giroud from his starting line-up in favour of Real Sociedad winger Antoine Griezmann.
"Why did I play Griezmann rather than Giroud? I made that choice because it was important to put speed (into the team)," Deschamps told L'Equipe.
"I expected to see Philipp Lahm on the right flank of defence, so we needed to defend well on that side too.
"Antoine did well in the second half."
Having remained unbeaten during the group stages, the French boss admits that his side are 'frustrated' following their quarter-final defeat in Rio de Janeiro.
"There was not a big difference between the sides, but this is what happens at a high level," he said.
"We faced a team that had more experience. We started a bit shyly, but then we did a lot of good things. We didn't get success.
"Finally, there is a feeling of frustration among the players, because the gap was not so big. There was a lot of sadness and frustration."
France qualified for the tournament after a playoff win over Ukraine in November, and Deschamps says his side have shown signs of maturity since then.
"After the win against Ukraine, a group sprang up. We don't have the same international experience as Germany, but I am very proud of what the players have achieved both on and off the pitch," he added.
"We have to keep that state of mind and that quality. I just want to keep the positives that I have seen since we arrived in Brazil on June 9."