Champions League: Manchester City's Sergio Aguero confident of a long run in Europe
Sergio Aguero believes Man City have the squad to go further in the Champions League after getting out of their group.
Last Updated: 17/11/13 5:34pm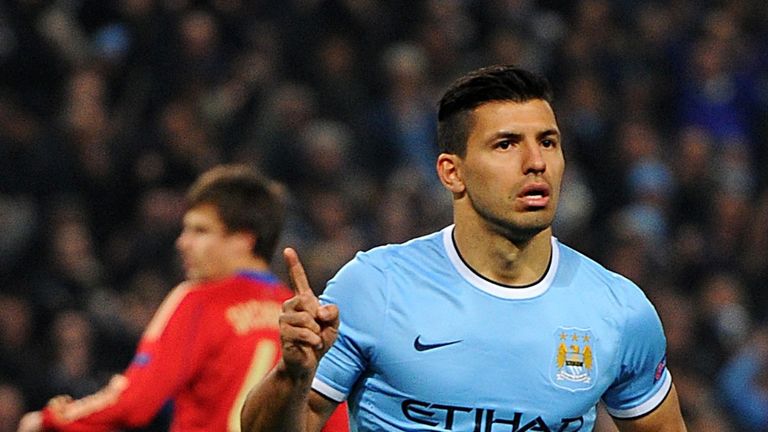 Having fallen at the group stage in the previous two years, City have finally made it through to the last 16 of European football's premier competition after home and away wins over CSKA Moscow.
They still have two games remaining in Group D to try and overhaul Bayern Munich and clinch top spot, but Aguero is upbeat about their chances regardless of who might lie ahead in the next round.
"We've qualified from the group stages and hopefully we can go further," the striker told City's official website.
"I think we have an excellent squad to progress in the Champions League but we know that it will be difficult.
"We will just wait and see what team we play in the next round and do our best to progress."
Aguero has been in scintillating form during the early part of the season and he gives Pellegrini a lot of the credit for the way he has worked since taking charge in the summer.
He explained: "As I've always said, every coach is different.
"They have different ideas on how to play the game and we must adapt to Pellegrini's style and do what he says.
"He demands a lot of me during matches and in training. He encourages me to be at my best at all times.
"When your coach is like that, he gives you confidence and the only way to repay his faith in me is to show my best on the pitch."
At the end of the season Aguero will turn his focus to international matters, when he hopes to realise his dream of helping Argentina become world champions.
He remarked: "The dream for any player is to win the World Cup. Well, it is for me.
"Maybe for other players it is to win any other title but my dream was always to win the World Cup.
"The expectation of the people in Argentina is for us to win but we know it will be very difficult."