Scolari: Age No Barrier To Neymar Success
Luiz Felipe Scolari is confident Neymar's age will not prevent him from leading Brazil to success on the biggest stage.
Last Updated: 03/12/12 3:08pm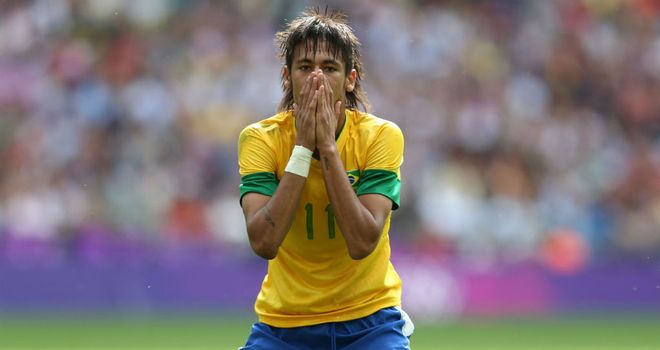 Scolari, who returned to the position as Brazil coach last week after he guided them to a fifth World Cup title in 2002, thinks the 20-year-old Santos forward will be a key player in both next year's Confederations Cup and the 2014 World Cup, both of which Brazil will host.
Scolari does not think age should stop a world-class player from achieving success on the international stage, and in doing so compared Neymar with two of Brazil's greats.
"Ronaldo used to be one of the leading figures in the Selecao (national team), and he shone for Brazil when he was only 19 or 20," Scolari told fifa.com.
"Pele too was only 17, and though he wasn't a big name at the time he became one during that World Cup (in 1958).
"At the end of the day, it's not a problem. Of course you need to have a lot of character and be very level-headed. What's more, the young lad could be an icon in technical terms, but that doesn't mean he has to be a leader within the squad too.
"That's where it's important for there to be a good level of understanding between the coaching staff and the players so everybody knows where they stand. But I don't see anything wrong with the fact that a 20 or 21-year-old player is our biggest star."
Scolari admitted he is relishing the chance of working with Neymar after coming up against him during his time in charge at Palmeiras.
"Of course, how I'd have loved to have him at Palmeiras when I was there so it's great that he's with us now rather than on the opposite side," Scolari said.
"But he's just one of the players that I could name."
The 64-year-old coach knows the ability to manage egos within the Brazil squad and keep his star players happy will be a key part of his role.
"It's one of the biggest skills: bringing together that large number of egos and personalities and making them really think about and work towards a common objective," Scolari said.
"You've also got to make them accept certain situations that often aren't favourable to them as individuals. That's the sign of a great coach, and (Real Madrid coach Jose) Mourinho has that ability.
"I can see it in his teams and see it in how committed his players are to their coach. However, it's only to be expected too that there are always one or two explosive situations."