Brazil's Julio Cesar has no regrets over QPR move despite relegation
Julio Cesar says he is grateful to QPR for signing him last summer, despite his first season ending in relegation.
Last Updated: 01/06/13 8:49am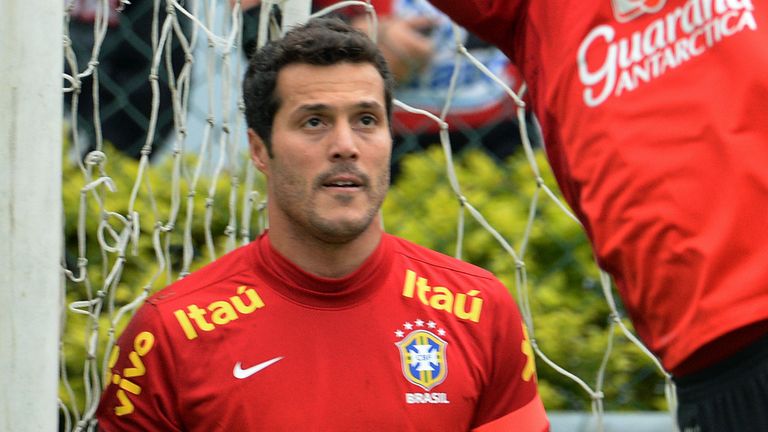 Cesar joined Rangers on a four-year deal from Inter Milan in late August and although he put in a series of good performances, he was unable to prevent the west London club falling back into the Championship
Given that Cesar has won five Serie A titles and one UEFA Champions League, he could be forgiven for having bad memories of QPR, but he has not forgotten they were the club who rescued him from a miserable end to his career at the San Siro.
"I had a wonderful year, individually speaking, regardless that the collective is not what I expected," Cesar said.
"I was caught by surprise and my career took a bad turn at Inter and QPR were the only club that came for me and helped me at that moment."
Cesar is part of the Brazil squad that will face England on Sunday in the first game since the Maracana re-opened its doors following a £300million revamp.
Cesar, who has been strongly linked with Arsenal, will want to impress any suitors watching on and he is also keen to establish himself as Luiz Felipe Scolari's number one ahead of next year's World Cup.
"If I am world champion (in 2014), I will be able to end my career with a flourish," he added.
Scolari is likely to deploy Neymar up front for the clash against in the Maracana alongside Fred, who should be fit despite a rib injury.
Barcelona won the ultra-competitive race to sign Neymar last week when they announced they had come to an agreement with the forward's current club Santos.
Many players have failed to make the grade after swapping South America for Europe, but Cesar thinks the highly-rated 21-year-old will have no problem adapting to life at the Nou Camp.
"He will be well advised, he will understand the pressure on him and he won't worry about playing, he will just enjoy it," he said.
"He will go to Barcelona and demonstrate what he can do and get the merit.
"I cannot remember a player who has had so much international respect from playing in Brazil."