Pele is backing Brazil's European-based stars to impress against England
Legendary striker Pele is backing Brazil's European-based stars to impress in their friendly against England.
Last Updated: 02/06/13 2:15pm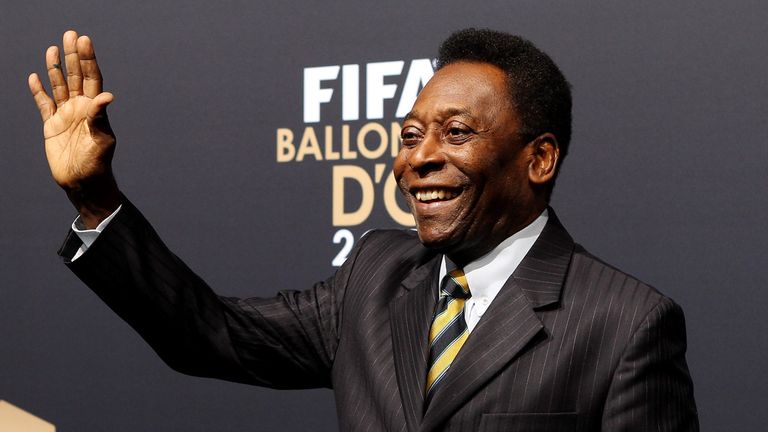 The game marks the re-opening of the Maracana stadium, with Brazil's historic home having undergone redevelopment in time for hosting next year's FIFA World Cup.
England recorded a 2-1 win over Luiz Felipe Scolari's side at Wembley earlier this year, but Pele thinks that February's defeat will have no bearing on the outcome of Sunday night's game.
"This game will be different to the one in Wembley; I can only see Brazil winning," he told The Sun on Sunday.
"The Brazilians playing in Europe such as Thiago Silva, Lucas Moura, Dante, Chelsea team-mates Oscar and David Luiz, and Neymar of course, are in great shape at the moment.
"They are all familiar with most of the England squad."
Pele starred in Brazil's famous 1970 World Cup win over England and the 72-year was full of praise for Bobby Moore and his team-mates.
"My favourite memory against England was when I swapped shirts with Bobby Moore after our classic game at the 1970 World Cup in Mexico.
"People always tell me that Bobby and I have popularised the concept of shirt swapping.
"For me it was a sign of mutual respect and also the definition of what the spirit of football should be because Bobby is the best defender I have ever played against. Also Bobby Charlton was one of the best midfielders in my time.
"And I can't forget the great save of my friend Gordon Banks in this game, the best ever at a World Cup."
However, Pele was reserved when asked about the chances of the current crop at next year's tournament.
"England's players have already played against some of the world's best players in the Premier League and Champions League.
"But the World Cup is a complicated tournament. It's not always the best team that wins. It's also a matter of luck when it comes to the draw."