Jerome Valcke says there are no alternative plans to move the 2014 World Cup
FIFA general secretary Jerome Valcke says there are no alternative plans to move the 2014 World Cup away from Brazil.
Last Updated: 25/06/13 12:27pm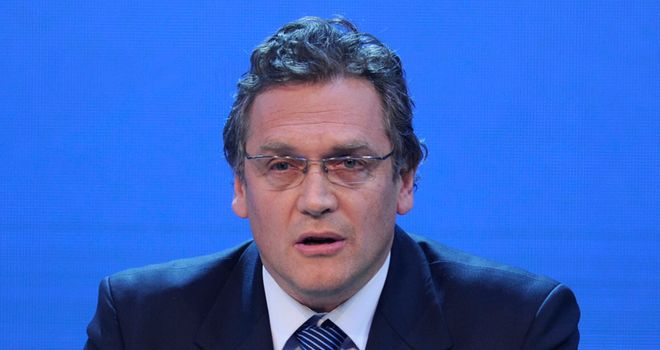 The ongoing Confederations Cup in the south American country has been overshadowed by protests, which started over high transport costs, but the fact they will host the World Cup as well as the 2016 Olympics has also been highlighted.
Valcke, however, insisted: "The World Cup will be held in Brazil. The first game will happen in Sao Paulo, the final will be in Rio. There is no plan B."
Valcke did admit the governing body had held talks over whether to cancel the Confederations Cup because of the unrest, but had endeavoured to continue.
"There was one evening on 20 June when we reached a peak in the country," he added.
"The demonstrations had moved from being non-violent protests to a minority of violent protesters who were making a lot of noise and problems.
"So the following day we had a crisis meeting, including the government, the local organising committee and FIFA just to make sure we were on the same page, in order to end the tournament in the best possible way."
The hosts will play fellow south American side Uruguay on Wednesday in the semi-finals, with the winners facing Italy or Spain in the showpiece encounter on Sunday.
Brazilian president Dilma Rousseff issued a public address on Friday in which she insisted funding for next summer's showpiece would not come from the public purse.
"We welcome Brazilian president Dilma Rousseff's address to the nation, and we reassert our collaboration with the (Brazilian) government to deliver a safe and successful Confederations Cup and World Cup, which all football fans can enjoy," FIFA spokesman Pekka Odriozola said at a media briefing at the Maracana Stadium.
"We are in contact with the local authorities on a daily basis, which is normal for the usual structures of such an event.
"From both FIFA, the local organising committee and the federal government, there were no discussions regarding any cancellation or change of venue with regards to the Confederations Cup or the World Cup.
"There has been no discussion at this stage regarding that possibility."
The disruption and violence has also raised questions over Brazil's ability to put on a safe and secure tournament in 12 months' time, but Rousseff insisted her country would rise to that challenge.
"This violence, promoted by a small minority, cannot tarnish a peaceful and democratic movement," she said.
"We cannot live with such violence, which shames Brazil.
"All institutions and public safety bodies have the obligation to curb, within the limits of law, all forms of violence and vandalism."