Julio Cesar has sympathy for Spain counterpart Iker Casillas
Brazil goalkeeper Julio Cesar can empathise with his Spain counterpart Iker Casillas.
Last Updated: 02/07/13 9:39pm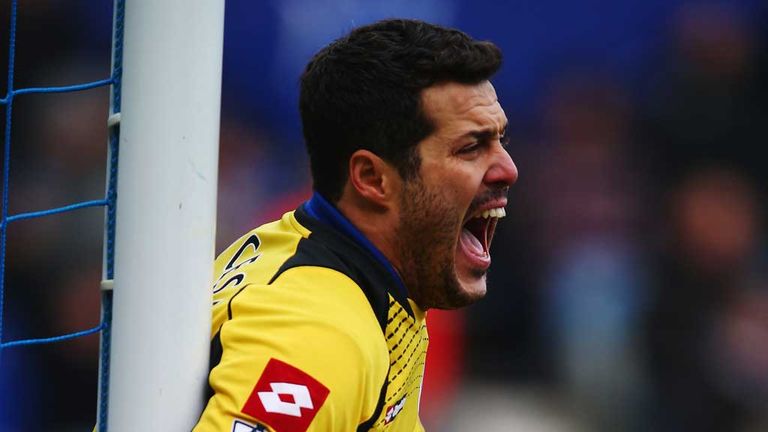 The QPR stopper and Casillas played in the Confederations Cup final on Sunday and after the game swapped shirts.
Julio Cesar, who won the Golden Glove for conceding the fewest goals in the tournament, collected the trophy wearing Casillas' shirt and said it was his tribute to his opposite number.
Casillas was sidelined for the final four months of the league season with Real Madrid, after injuring his hand and then losing his place in the first team to Diego Lopez.
"It was an honour for me to swap shirts with Casillas, because I respect him a lot and I've always admired him," Julio Cesar, who was relegated with QPR, told Marca.
"I was out on the pitch celebrating and someone told me that Iker wanted to speak to me. That made me very happy, and we spoke for 10 minutes.
"I had never met him before in person, as this was the first time we'd played against each other, and I can say that he is a great person, an excellent lad.
"He has had a very tough time this season, and I have also had a bad season.
"That's why I wanted to swap shirts with him and I thought it was a good idea to go up and collect the trophy wearing his shirt to show him my support, because the best players always return."
For the Brazilian, the fact that both he and Casillas were named in their respective team's starting line-ups for the final was a sign that both had put their problems behind them.
"I'm very upset that he had such a hard season, because I know how he feels, and I'm delighted we both were able to play in the final," he said.
"For me it was a great resurgence and I know he felt the same. Casillas is a great, and he deserves the best. I'm sure he'll rise again. In fact, by playing in the final, he already has done."
The QPR man would not reveal what he said to Casillas, but admitted: "It was a very emotional conversation.
"Goalkeeper is a very special position, it's different to all the others.
"You suffer a lot between the sticks, and no matter how well you play, you will always have tough moments. We have both had difficulties, but we have had the strength to keep going."
And he joked about the pressure on keeping goal for the five-time World Cup winners.
"I have always said that the two most stressful jobs are being president of Brazil and goalkeeper of Brazil."