Tottenham midfielder Paulinho eyes Premier League and World Cup glory
Tottenham midfielder Paulinho says he is dreaming of both Premier League and World Cup glory next summer.
Last Updated: 27/10/13 1:06pm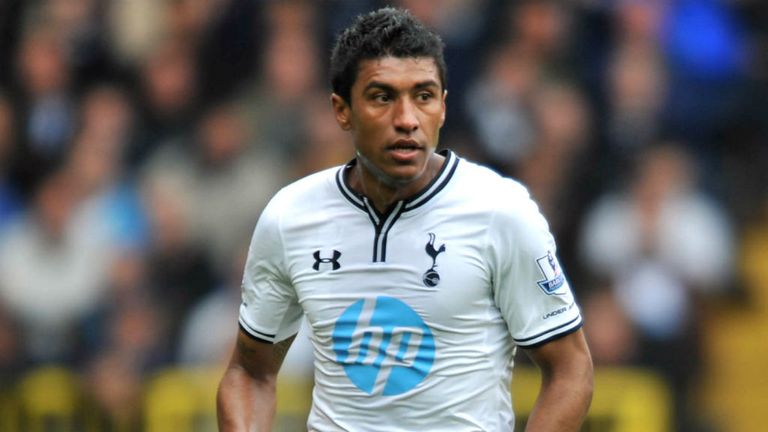 The 25-year old, who joined from Corinthians during the off-season, has already impressed at White Hart Lane, starting in all eight opening league games for Andre Villas-Boas' side so far.
Paulinho enjoyed Confederations Cup success with Brazil over the summer and he is now eyeing an ambitious club and country double.
"This is not an impossible dream. I am optimistic about winning the league with Tottenham and the World Cup with Brazil," he told The Sun.
"It would be incredible to be on those buses parading both trophies. Tottenham can do it. It's a very open race.
"The rivalry for places in the team couldn't be greater and the players are convinced this could be a big year for the club.
"You know about the intensity of Brazilian football. For the fans over there, the World Cup is the ultimate.
"Like most Brazilian players, I began by playing on the bench and I still think of those days. I've always dreamt about playing for my country in the World Cup."
The midfielder also spoke of his understanding with Spurs boss Villas Boas, saying that their strong relationship helps to bring out the best of him on the pitch.
"I have an advantage with AVB - the Portuguese language. I try English but when it comes to technical details, we speak in Portuguese," he said.
"For me he is a big coach, close to his players and very clear with his orders. He is sincerely my perfect type of boss."
"I am very happy with what he's said about me, it is a pleasure to be compared to (Frank) Lampard.
"Mind you, it's not that easy to get in the starting XI such is the quality of the squad. English football is totally different to Brazilian but I'm totally up for the challenge."