World Cup news: FIFA insists Brazil remains on course to hold 2014 tournament
FIFA have reassured fans over Brazil's ability to stage the 2014 World Cup after a number of recent incidents.
Last Updated: 05/11/13 3:23pm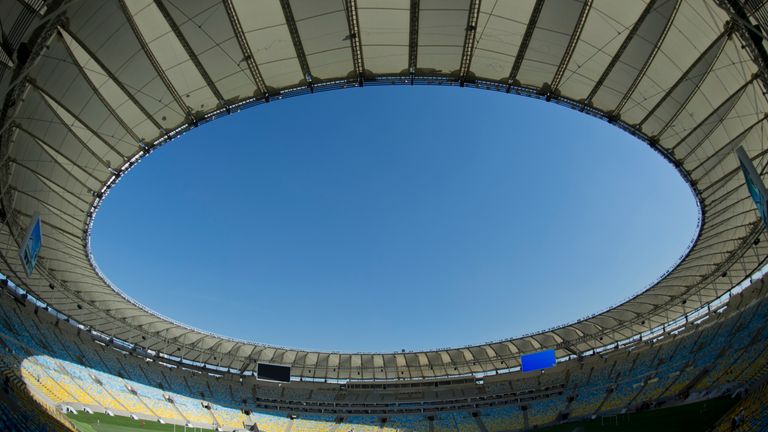 A recent wave of incidents at several of the proposed stadia for the tournament had thrown into doubt Brazil's ability to meet FIFA's completion deadline for stadiums to be ready for next summer's tournament.
Work was temporarily halted at the Arena da Baixada stadium in the city of Curitiba last month after a judge ruled there was a serious risk of accidents to workers carrying out building work on the site.
Refurbishment work on the stadium is already behind schedule at the venue which is due to stage four matches during the World Cup.
Two weeks ago organisers faced another setback after a fire at the Arena Pantanal further slowed down the development of the 44,000 stadium in Cuiabá.
But FIFA's marketing director Thierry Weil insists Brazil remain on track to meet the December 31 deadline set by FIFA.
"We are good, I wouldn't say excellent but we are good." he told Sky Sports News. "We had six stadiums ready from the Confederations Cup which cover two thirds of the volume of all tickets because they are the bigger stadiums.
"Sao Paolo is looking extremely good and will be finished in December definitely which is another big stadium and then you have the five others all in line with the timings. They will be delivered in December."
In the last month there have also been incidents of rioting at the World Cup host cities of Curitiba, Fortaleza and Sao Paolo, heightening fears of a repeat of the fan unrest witnessed at the Confederations Cup.
FIFA head of special advisory office Carlos Cardim is hopeful the tournament will proceed peacefully.
"It's a problem we are trying to solve," he said. "It's important to identify the failures and to have this auto-critical view and to correct and to prevent that is our idea.
Meanwhile Ricardo Trade, from FIFA's Organising Committee, has insisted extra rest days between matches will help players adjust to the climate and playing conditions during the World Cup.
He said: "If we have a match in Manaus where the temperature there is higher, and then we have a match in Porto Alegre for example, we have four days rest not three days.
"We are prepared to achieve these things, we are prepared to tackle these problems.
"Winter in Brazil is almost summer but it's good because it's a good temperature. The average is so important. We have studies proving that it will be nice to play in these places in the ideal temperature."