World Cup: Violent crowd outbreaks not expected for next year's tournament
Brazil authorities have assured supporters that next year's World Cup will be safe for spectators.
Last Updated: 10/12/13 5:46pm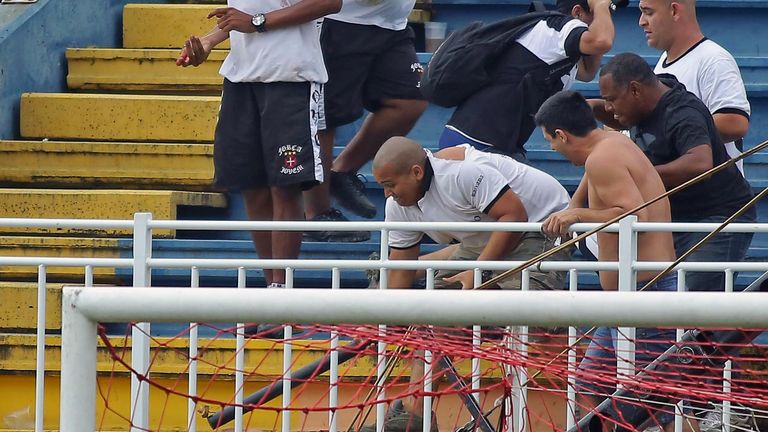 The hosts are just six months away from the start of the 2014 FIFA World Cup but the savage scenes witnessed in the game between Atletico Paranaense and Vasco da Gama caused a wave of panic to sweep over the globe over future spectator safety.
It was a game of high intensity and importance as Atletico needed three points to qualify for the South American equivalent of the Champions League, Copa Libertadores, while a defeat for Vasco would result in relegation.
But the chance of a repeat of these violent scenes, which bought a sour end to the Campeonato Brasileiro, are minimal due to the differences in attitude towards club and international football, as crowd aggression is not associated with the national side.
And Brazil's secretary of security for major events, Andrei Rodrigues, has reiterated that security will be stepped up for the FIFA 2014 World Cup.
"For the World Cup this won't happen because we have even more private security forces who have the responsibility to control the interior of the stadium and respond quickly," Rodrigues said.
"There will also be a contingency force of police troops prepared to intervene in any eventuality."
Although there were no fatalities, the game was suspended 17 minutes into the match, and three people were taken to hospital.
The match resumed an hour later, and Vasco were subjected to their second relegation in five years, but the Brazilian team are set to ask the Country's sports tribunal to annul the result because they say it was not safe to play after the brawl.
This year alone, 30 people have been killed in clashes involving football fans up from 23 in 2012, according to Mauricio Murad, a sociology professor at Universidade Salgado de Oliveira in Rio de Janeiro.
"Brazil is unfortunately the world record holder in soccer fan deaths through conflict with organised fan bases," Murad said.
"In the last 10 years these numbers have been rising at an alarming rate.
"In 2012 we had 23 deaths, in 2013 we've already had 30, so we've broken our own record. It's sad and almost nothing is being done to control the situation."
Experts say fights have intensified as more stadiums use private security to control crowds instead of police.
And with several key stadiums under construction or renovation for the World Cup, teams have had to play at sites that are unaccustomed to handling large sporting events.
As a result of the increase in crowd violence, Brazilian courts have responded by handing down more and larger fines when fans misbehave.
Through the middle of November this year, clubs in Brazil's first and second divisions were fined a total of 310,200 Brazilian reais ($134,000) for serious cases of violence or other abuses inside stadiums, which is up from 231,800 reais during all of last year, according to the Brazilian court that handles sport-related cases.
The Brazilian President, Dilma Rousseff also called for more police action to curb the violence inside football stadiums, and Brazil's female answer to Pele, Marta Vieira Da Silva, announced that she would like to see hooligans banned from grounds.
"This was a lamentable event, people who stoop to this level won't bring anything to football, they should be banned from the grounds," Marta said.
"We know we need better security in stadiums to prevent this, we must make sure this doesn't happen at the World Cup."