World Cup: Porto Alegre and Sao Paulo stadiums stage test events
World Cup organisers have held two test events at Brazilian stadiums as preparation for the tournament.
Last Updated: 11/05/14 9:23am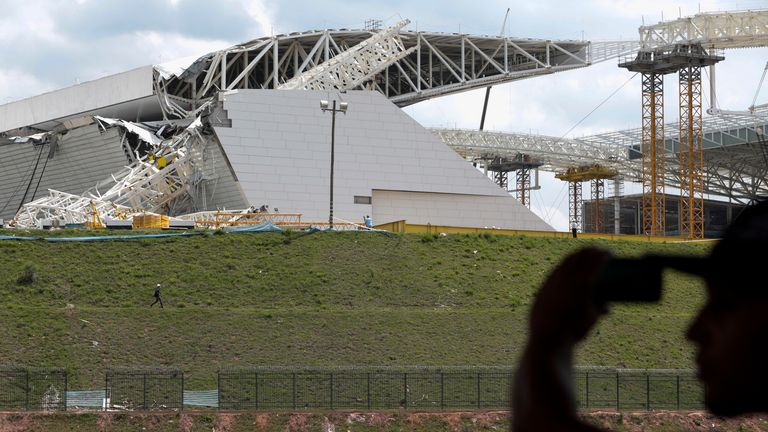 Around 35,000 fans were in the Beira-Rio Stadium in the southern city of Porto Alegre to watch Internacional beat Atletico Paranaense 2-1 in that ground's final test event, which will host five World Cup matches.
In the partially-constructed Itaquerao stadium, in Sao Paulo, almost 20,000 people attended an exhibition match between past and present Corinthians players. A full test event will be held there next weekend.
Former Corinthians and Brazil star midfielder Rivelino scored the venue's first goal by converting a penalty.
FIFA secretary general Jerome Valcke said recently the Itaquerao and the Beira-Rio were among the stadiums still causing concern, along with the Arena da Baixada in Curitiba.
And there are likely to be similar concerns over the Arena Pantanal in the wetlands city of Cuiaba, where a constructor worker died last week, which is also yet to be finished with just a month before the World Cup opener between Brazil and Croatia on June 12.
The Beira-Rio has already been officially inaugurated, but the construction of temporary structures needed for the tournament has been delayed.
The exhibition at the Itaquerao took place as workers continued to install the 20,000 temporary seats needed for the opener but organisers are confident the ground will be finished on time.
"For a first event, it was very good," said former Corinthians president Andres Sanchez, who is in charge of the stadium's construction. "We had some problems, but we will continue to make adjustments. For the World Cup it will all be 100 percent ready."
The official FIFA test at the stadium is due to take place on May 18 and will be a Brazilian league match between Corinthians and Figueirense. Only 50,000 fans will be allowed to attend even though the venue will hold nearly 70,000 for the six matches it will host during the World Cup.